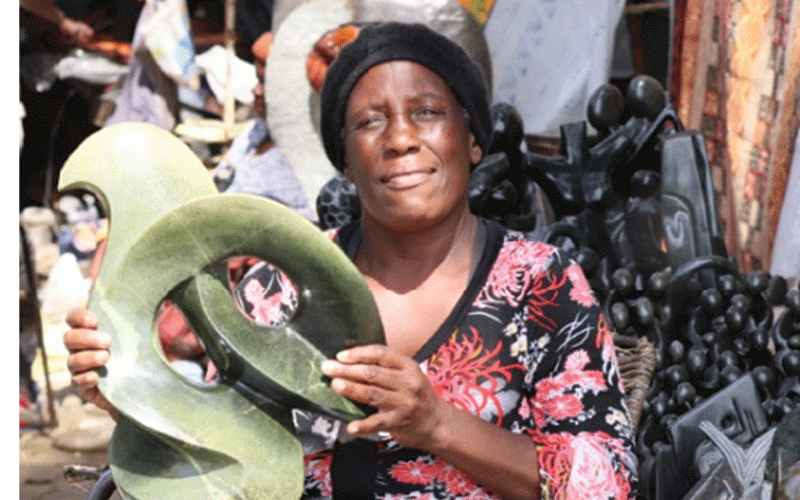 VIOLET MACHANDO wipes away sweat while she works on her latest sculpture at her Newlands base in Harare.
At 62, Machando looks younger than her age. She has been in the field for 38 years.
Machando told NewsDay Weekender that stone sculpturing had enabled her to take care of her family following the death of her husband in 2015.
Venturing into sculpting
After graduating from Canaan and Paterson Sculpting School in Rusape in 1985, I took my hammer and chisel and started working and I have not looked back since.
I was already a mother of two by then, and my husband is the one who encouraged me. Women were very few in the field and I saw it as an achievement to be able to fit in a field that was male-dominated.
I feel this is what I was born to do. Anyone can become a sculptor with little or no formal education although formal classes can help in refining and expanding sculpting techniques.
This field is male-dominated, but I worked to the extent that I managed to compete in producing quality products demanded by my customers, mainly foreigners.
My husband was very proud of my work.
Tools of the trade
As part of my job, I use a hammer, chisel, and other equipment. My artworks range from garden flowers, wild animals, dancers, families, and other things depending on the kind of stone that I have at that particular moment.
Education
I went up to Grade Five, but I can speak fluent English which enables me to sell my artefacts to English speakers and foreigners even though I am not able to write.
Raising the family from sculpting
When my husband died in 2015, (this work) helped me a lot. I knew that my job had the potential to feed and bring money for us to survive with my children. From 1985 up to today, I am surviving on this trade and it's helping me to take care of my other three children. I am paying fees for the trio who are doing Upper Sixth, Grade Seven, and Grade Four.
This trade is good and l recommend it to all those that wish to venture into it not to have second thoughts. Life is not about depending on our spouses, what if he dies like what happened to me? With our own hands, we are supposed to work and helping our partners because being idle is the beginning of domestic violence.
I will never be destitute or a beggar because I work very hard. I don't beg anyone for money, but I am surviving and I don't expect my older children to give me money, they do it out of their own will.
Proceeds
In the past, we used to sell the whole table of artefacts to a single customer, but these days we can spend the whole day without selling a single item. However, I am inspired because that is what l love to do and I don't expect to win every day.
Sometimes we are invited to Harare International Conference Centre when events are taking place, where we sell our wares at good prices.
Away from the hammer and chisel
When I am not at work, I do gardening in the backyard of my home in Mabvuku. On Sunday, I spend my time at church, I am a member of an apostolic sect called Vateeri VaJesu.
Word of guidance
Young people must learn something in life because without education it is difficult and a struggle to make a decent living. Women of today should work hard to have a good life rather than opting for prostitution which will bring them misfortunes in life.
Youths should also choose what they enjoy and love to do rather than only aspiring for office jobs which are difficult to get these days. One can be his or her own boss, working at their convenience and not wake up one day being fired.
Also, youths should move away from abusing drugs such as bronco because their life will never get better, they will wake up tomorrow with the same problem. They must learn to use their own hands and stop using juju to acquire wealth.
Follow us on Twitter @NewsDayZimbabwe
Related Topics