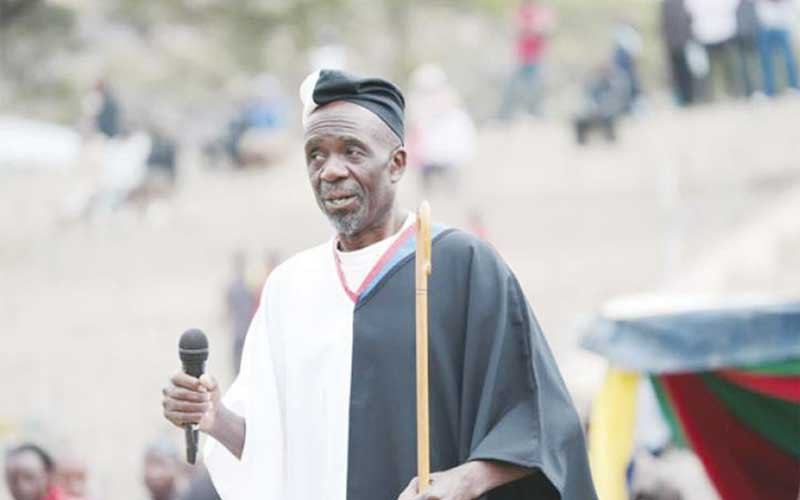 MUTARE-BASED satirical musician and comic social commentator, Hosiah Chipanga, who is now a holder of an honourary PhD in Philosophy from Trinity International Bible University, has prophesised about a new heaven and earth.
Chipanga, who rebranded his Broadway Sounds to Vaparidzi Veshoko in 2007, has over the years caused massive social gossip through many hit songs such as Kwachu Kwachu and Gushungo among others and is now set to release a five track album Denga Itsva Nenyika Itsva later this month.
Chipanga, now in his seventies, has a musical career that stretches over four decades and is also the founder of Messiah Apostolic Prophetically Inspired People's Institution, or MAPIPI in short.
Hosea Chipanga believes his conferment of an Honorary Doctorate in Philosophy from Trinity International Bible University is fulfilment to his divine calling in Sheba, Penhalonga on September 13, 1977.
"I am releasing my 29th Album Denga Itsva Nenyika Itsva this month. My number of years in the field would have tallied with my albums, had it not that for almost 10 years I was denied to record some albums since my first single project in late 1979 was banned by the then Zimbabwe-Rhodesia authorities," Chipanga told NewsDay Life & Style.
"Now with the approval and recognition by a higher level institution on land that has awarded or decorated me with a degree of philosophy, dawn has come. The source and the inspiration of my life and music derives from the Will of God to have me help Africa and the world at large establish the Kingdom of God here on earth. So in short, whatever I am trying to do or get involved in, is to try and convince the people of today that there is a better and best way we can live on this planet God created for us."
Chipanga said it would be difficult for him to fully explain what he envisons on Denga Idzva Nenyika, but feels: "Those who drink beer normally can explain it better for it's like when someone is drunk the planet becomes much enjoyable than is the reality on the ground. It's like bringing the normal drunkenness mood into reality without you having taken anything that makes you drunk, hence, the first miracle of Jesus Christ," he said.
In other words Chipanga, who at one time plied his musical trade as God's Messenger, is in a tactical advocacy for responsible consumption of alcohol for adults, while for the youth he warns against the consumption of illicit drugs and substances.
Commenting on his December 2022 conferment of the honourary PhD, he said: "I really feel accommodated. It is like I am being welcomed from the wilderness which has been my home with only very few people or none taking me seriously. Now that the madness has been honoured, I believe many sober senses will now give me the room I deserve in their heart."
Chipanga's 29th Denga Itsva Nenyika Itsva album, which was recorded and engineered by renowned producer Peter Mupatutsa is set to enrich his discography, which consists of such past albums as Kurongerana, Chipanga Jeka Kwese, Chipanga Mazano Chiparure Chipanga, Dzorai Vana, Gumi Remitemo, Guva Rasatani, Madzimbahwe, Ma Stand and Muchatongwa, among others.
Follow us on Twitter @NewsDayZimbabwe
Related Topics