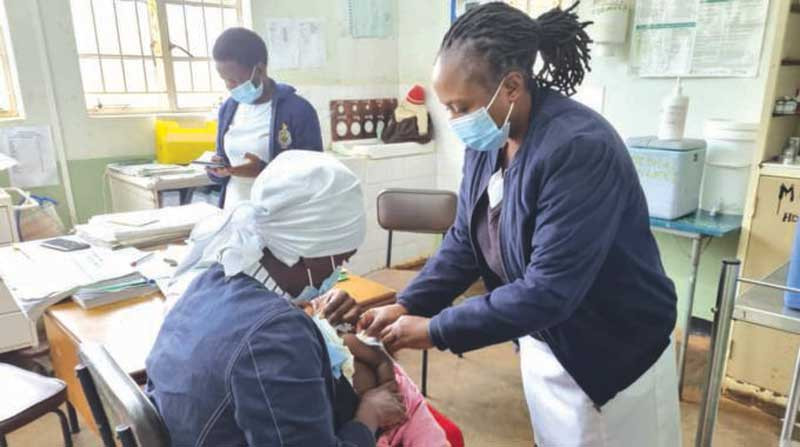 Efforts by the Health and Child Care ministry and other stakeholders to curb the measles outbreak are reportedly being frustrated by apostolic sect members who are refusing to take their children for vaccination.
The Johanne Marange sect members held their passover last month at Kemureza near Magunje in Hurungwe, raising fears of infection among the children.
Hurungwe rural district ward 13 councillor John Mbavava accused members of the Johanne Marange sect of snubbing government efforts to vaccinate children against the disease.
"Officially, we have 24 deaths but this is under-reported as many children are being secretly buried, and no one can account for the missing children that died of measles," Mbavava told NewsDay during a visit to the area on Friday.
''Members of the Johanne Marange sect are defying government efforts to have their children vaccinated."
Mbavava added: "I am a local villager in Menoembwa and am talking from an informed position where a majority of the sect members have defied all efforts to have children vaccinated."
Menoembwa area is the district 'hotspot' of the measles outbreak.
According to the 2022 Zimbabwe National Statistics results, Ward 13 has a population of 24 374 people of which 11 963 are males and 12 411 females.
Mbavava claimed that some school children have been "coached" to flee from health ministry vehicles.
Cliff Mudengezerwa, a ward 12 councillor weighed in saying some apostolic sect members were frustrating the fight against measles.
''In my ward areas like Zvarai and Nyamutora we have more apostolic members that are defying government calls to have children vaccinated,'' he said.
"Information is also not readily available and we are not sure of how many children have passed on due to measles."
But Hurungwe district medical officer Doctor Wilbur Munyaradzi Chidaushe downplayed the allegations of unaccounted for measles deaths in the district.
"We are still investigating to get the actual number in the district,'' he said in a telephone interview.
Mashonaland West provincial medical director Gift Masoja said 113 children had died in the province.
''Unfortunately, all the recorded casualties were unvaccinated children,'' said Masoja.
Nationally, the country has recorded over 700 measles deaths as of last week.
The outbreak was first reported in April.
Apostolic Women Empowerment Trust (AWET) provincial focal person Sharon Chiringa said they were working closely with communities around Hurungwe raising awareness against measles.
''As AWET, we have cadres in some of the wards in both Karoi town and Hurungwe rural councils helping in advocacy for measles vaccination,'' Chiringa said.
AWET is also reaching out to faith leaders, including religious groups raising awareness campaigns.
Measles is a viral infection that starts in the respiratory system and remains one of the major causes of death for children under the age of five.
Related Topics