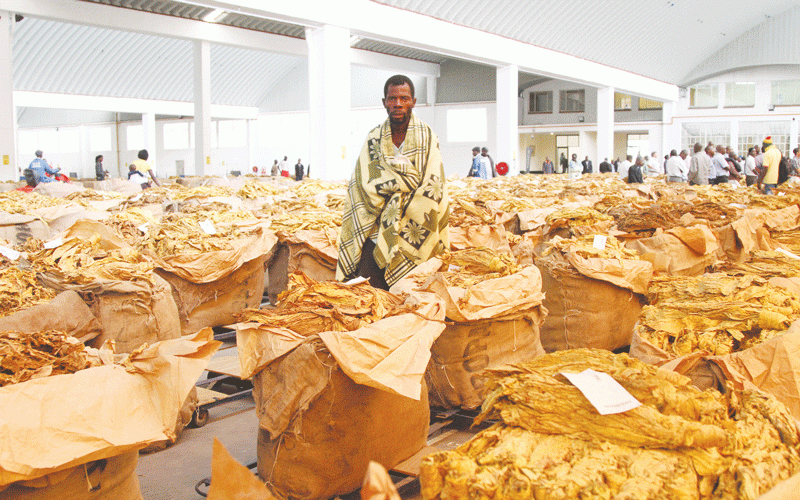 DESPITE the challenges faced by farmers during the 2021/22 tobacco production season, over 208 million kilogrammes of the golden leaf worth US$637 million have been sold to date, statistics from the Tobacco Industry and Marketing Board (TIMB) show.
Last year, 210,7 million kilogrammes of tobacco valued at US$588,9 million were sold.
Average tobacco price for 2022 stood at US$3,06 per kg compared to the US$2,79 realised the previous selling season.
Apart from erratic rainfall which affected planting, farmers were affected by viability issues. For instance, the costs of production went up as demand for the United States dollar component in the operations grew.
The farmers' problems were compounded by the government's insistence that only 75% of the sales would be paid in the greenback. The remaining 25% would be paid in the local currency, converted at the prevailing auction exchange rate on the day of sale.
The tobacco selling season is one of the few times that government receives foreign currency but farmers complain they lose out because their input and labour costs are paid for in foreign currency.
Tobacco is a capital-intensive cash crop.
Due to these factors among others, the number of new tobacco growers for the 2021/22 season declined by 50% compared to the previous year, TIMB noted.
As a result, tobacco hectarage decreased by 11% from 125,176ha to 110,770ha.
Tobacco production in the country remains heavily dependent on natural rain which leaves it susceptible to climate change effects. False and flush ripening of the tobacco crop was experienced due to excessive rain, resulting in barn space being a major constraint.
According to TIMB auction and contract tobacco seasonal sales statistics for day 121, a total of 208,3 million kilogrammes of the golden leaf had been sold, earning the country US$637 million.
Being the largest tobacco grower in Africa and the sixth largest tobacco producing country in the world, Zimbabwe exported about US$820 million worth of the golden leaf in 2021.
The above normal rainfall received during the 2020/21 farming season coupled with high commodity prices resulted in tobacco exports surging by 7% from US$763 million recorded in 2020.
Smallholder farmers, according to local financial services firm IH Securities (IH), continue dominating tobacco production in Zimbabwe contributing more than 50% to total output.
Out of the 211 000 metric tonnes of tobacco produced in 2021, about 133 000 metric tonnes were produced by smallholder farmers.
"With the country aiming to grow the industry to US$5 billion by 2025, there is a need to implement measures that alleviate the effects of climate change such as investing in irrigation equipment," IH said in its agricultural sector outlook.
"However, with contract farming, which is the main financing framework for tobacco farming, being abused through double dipping, the industry is likely going to face headwinds securing significant capital injection from the private sector."
Follow us on Twitter @NewsDayZimbabwe
Related Topics