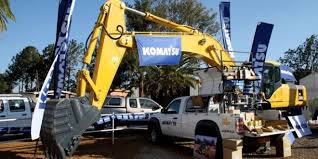 PREPARATIONS for the regional Mining, Engineering and Transport (Mine Entra) exhibition are at an advanced stage with over 70% of available space having been booked compared to 43% at the same time last year.
BY MTHANDAZO NYONI
The exhibition is set to run from July 22 to 24. It will be held under the theme "Unearthing Opportunities" — a rallying statement challenging inter-dependent sectors to uncover and take advantage of the potential, opportunities and growth prospects in the region's mining industry and related sectors.
"With a month to go to the 2015 edition of the country's premier mining engineering and transport exhibition, Mine Entra, organisers are pleased with preparations to date," Zimbabwe International Trade Fair Company general manager Nomathemba Ndlovu said. "Exhibition space is selling well with 72% of available space having already been reserved compared to 43% at the same time last year," she added.
Ndlovu said of the 123 exhibitors who have taken space, four are foreign and countries represented are China, Germany and South Africa.
The exhibitor profile consists mainly of specialised companies supplying exploration, extraction, processing or beneficiation machinery, as well as suppliers of equipment relating to the engineering and transport of mining resources, she said.
"Exhibition stands are still available and we encourage exhibitors who have not already done so to book some space so as to enjoy the early booking discounted rates," Ndlovu said.
She said visitor registration for the event was at its peak and interested visitors were invited to register on company website.
"To date, registered visitors include mine managers, metallurgists, technical and operations managers, buying managers, government officials, consultants, among other sector technocrats".
Ndlovu said on July 22, Mine Entra 2015 Conference, where industry leaders would meet with key policy makers who include the Mines and Mining Development minister, to deliberate on issues affecting the industry.  She said particular emphasis would be on topical issues of value addition and beneficiation.
The conference has been organised in conjunction with the Chamber of Mines of Zimbabwe (COMZ), she said.
On July 23, a joint suppliers and producers' conference – co-organised with COMZ – would be held. This, according to Ndlovu, is a forum for upstream players in the mining value chain to meet with users of their products and services – that is, mining houses – to discuss opportunities and challenges to business co-operation.
On July 24, Ndlovu said small-scale and artisanal miners' conference – a platform for this special interest group – would meet with relevant policy makers and suppliers to discuss issues which are pertinent to them.
The Mine Entra official opening cocktail is scheduled for July 24.
Mines and Mining Development minister is scheduled to officiate.
Ndlovu said Mine Entra 2015 would be a milestone event, the 20th consecutive edition of integral business and networking platform.
"The exhibition's growth reflects a two-decade investment in building a relevant and targeted tradeshow that has helped uncover Zimbabwe's wealth and potential," Ndlovu added.