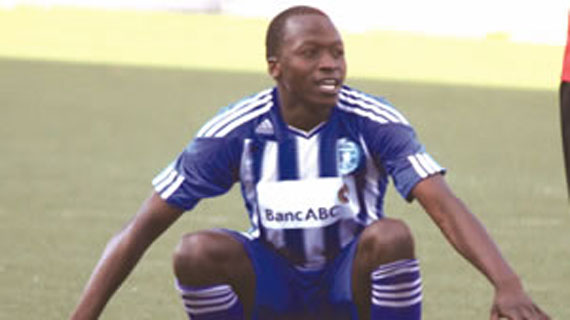 DEVON Chafa sensationally quit Dynamos yesterday and was given his clearance letter as the midfielder sought greener pastures with Bulawayo side How Mine the likely destination.
WELLINGTON TONI/HENRY MHARA
Qadr Amini joined the Harare giants from FC Platinum.
Chafa and Simba Sithole were reportedly demanding a total of $31 000 as signing on fees from the Castle Lager Premier Soccer League champions to renew their contracts, which saw negotiations between the two parties stalling.
A source yesterday said Chafa's handlers were demanding a total $21 000 for a year's loan deal, for which the half would be shared between the players' manager Gibson Mahachi and parent club Aces Youth Academy.
He is allegedly demanding a salary of over $1 500 a month. In 2013, Chafa turned down a $20 000 signing-on fee from FC Platinum to stay with Dynamos, who had supported him throughout his six-month ban for taking a prohibited substance.
Sithole, who is managed by Mahachi, is also allegedly demanding $10 000 as signing on fees for a year's deal, plus a salary of over $1 500.
However, another Dynamos player, Russell Madamombe, also managed by Mahachi, is reportedly close to sealing a deal with the club after agreeing a two-year deal worth over $5 000. Yesterday, club president Keni Mubaiwa all but confirmed that anyone seeking a one year is not welcome at Dynamos.
"Chafa, Sithole and Tafadzwa (Rusike), want one year contracts and we have said no to any one year deal and in any case they are expensive," he said.
"What do you achieve by negotiating with a player at the end of each season? We have been clear that we want to build a team that will win the league title in 2015 and compete in Africa in 2016 and we are offering two years and above contracts only to achieve some continuity. That is how we want to move forward as a team."
On Amini, the Harare businessman said: "That one (Amini) has agreed on a two year deal and we have no problem with that."
Amini was registered for Platinum's Caf Confederation Cup which starts next month.
The left back, who had returned from a career threatening injury and made some appearances at Platinum last season, was part of the Dynamos side that continued their pre-season training in the capital yesterday morning.
The former Gunners man had found his playing time limited by the form of Kelvin Moyo, twin to Elvis, in the left back position and has opted to return to the capital to fight for a place at the league champions with veteran Ocean Mushure.
Amini did not play in the Chibuku Super Cup final which Platinum won against Harare City, something which could have hastened his departure from Zvishavane despite the offer a contract extension.
FC Platinum spokesperson, Chido Chizondo said they had offered Amini a contract extension at the end of last season.
"But he has not pitched up and his manager George Deda has also not been available. So we have wasted a slot in the team and we might register someone by the end of business today (yesterday).," she said yesterday as pictures of Amini at Dynamos's training surfaced on the social networks.
The former Young Warriors captain, turning 25 this year, fits well into Dynamos' new direction of getting younger players into their squad.
As it stands, Platinum has 24 players in their squad for the Confederation Cup after the sudden departure of Amini. The second deadline for the registration of five more players, who will form the final squad, fell at midnight.
Deda, who has also controversially claimed ownership of Warriors and Mpumalanga Black Aces striker Tendai Ndoro, was not immediately available for comment yesterday.
But Platinum coach Norman Mapeza, whose side started their preparations on January 8, will not lose sleep over the loss of an experienced cover as he has enough arsenal in the Moyo twins, Ian Nekati and the experienced Zambian international defender Aaron Katebe.
Platinum have been going about their transfer business in a transparent manner so as not to damage their corporate brand and are likely to issue Amini, who once went on trials at South African giants Orlando Pirates in 2011, with a clearance letter without any qualms.
It is understood Rusike and Rodreck Mutuma are also yet to sign and reports suggest that their manager Edzai Kasinauyo is trying to find them clubs in South Africa before he could commit them to Dynamos.
Three other players Tawanda Muparati, Temba Ndhlovu and Ronald Chitiyo have confirmed their departure after the expiry of their contracts.
Muparati and Ndlovu have joined How Mine and Harare City respectively while Ronald Chitiyo is already in South Africa with his National First Division side Royal Eagles, formerly Sivutsa Stars owned by the pair of millionaire couple Shauwn and Sbu Mpisane.
Dynamos are also likely to lose striker Washington Pakamisa who is reported to have signed for Mozambican Premier League side Liga Muculmana.