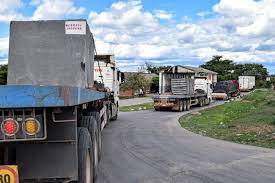 The Zimbabwean government instituted Statutory Instrument 127 of 2022 which effectively bans the export of raw granite unless authorised by the Minister of Mines. However, the law exempts exports to continue indefinitely for pre-existing valid contracts. Granite is a metamorphic rock that is typically used in construction as a hard surface.
It is cut into slabs which are polished and used in construction to make tiles, tombstones, interior pavers, counter tops, and elegant exterior designs. Officially, Zimbabwe mined close to 230 000 metric tonnes of granite and exported crude or roughly trimmed granite worth US$25,8 million in 2021.
From the figures, the government collected less than US$4,5 million in tax revenues. Local authorities only collected a maximum of US$230 000 in levies. The Zimbabwe National Statistics Agency (ZimStat) points that from January to May 2022, at least 102 000 metric tonnes were mined and exported at a value of US$11,96 million.
Most of the raw granite from Zimbabwe is exported via Nyamapanda Border Post to Mozambique with over 95% of it ending up in Italy, South Africa, Germany, Spain, the United Kingdom, China and Poland.
 Impact of illicit trade The 2022 official values indicate an export price of US$117 per tonne, well below the market rates reported by UN Comtrade. Black granite is sold at prices close to US$1 000 per tonne, and a block of granite weighs over 25 tonnes on average. It is estimated that Zimbabwe exports raw granite worth between US$80-$100 million with illicit trade prejudicing the country of at least $15 million in potential tax revenues.
The World Bank through the World Integrated Trade Solution (WITS) shows that in 2018 Zimbabwe exported crude and roughly trimmed granite worth close to US$80 million while official figures locally had a value of US$23,66 million.
The Observatory of Economic Complexity (OEC) pointed out that in 2020, Zimbabwe exported crude or roughly trimmed granite worth over US$41,7 million (8th largest exporter of granite in the world) while government figures reported US$19,6 million in export revenues. Most of the money in raw granite exports is lost through underinvoicing where the exporter falsifies the weight and value of the stones in cahoots with border officials.
Comtrade data shows that countries such as Spain, Italy and South Africa pay an average of $305 per tonne for raw granite imports from Zimbabwe.
A quick look on the internet shows that the average price of polished black granite is US$30 per square metre.
This points to the immense value that the country can get if the granite is polished locally.
While the country is exporting raw granite stones, consumers on the local market import countertops and black granite for domestic use from South Africa and Hong Kong.
50 years of mining
Granite has been mined in the northeast of Zimbabwe since 1972 with Murehwa, Mutoko, Mudzi, Uzumba and Mount Darwin standing out on the resource endowment.
However, 70% of the exported stone is mined from Mutoko district which is in Mashonaland East province.
The province is home to nearly 150 000 people, according to the United Nations (UN) 2012 census.
There are roughly 20 mining companies operating in the province with most of them being foreign owned. It is estimated that at least 60 trucks leave Mutoko's granite-rich mountains daily with large parts of the district turned into wasteland, characterised by parched mountains, and poisoned rivers.
Most of the companies mining in the area use open cast mining technique which leaves huge open pits once the companies move to new mining sites where the resource extraction is cheaper. Currently, there is limited value addition being done within Mutoko or other areas where granite is being mined.
 Archaic laws Under the current laws, local authorities receive a small fee of up to US$1 per tonne for the granite mined under their jurisdiction.
In 2018, treasury instituted a 5% tax on the sale of all raw granite to encourage the miners to cut and polish the stone in Zimbabwe.
The tax did little to foster local beneficiation. All mining activities in Zimbabwe are governed by the Mines and Minerals Act which dates back to 1961.
The 1961 (Rhodesian Era) Act is an outdated legislation with numerous challenges which have been affecting the ability of the nation to realise maximum mineral resource beneficiation especially for the locals who are operating as artisanal and small-scale miners. It also has loopholes that lead to limited disclosure by miners and opaque operations by various local and foreign owners.
The Mines and Mineral Amendment Bill tabled initially in 2012 has not been signed yet.
Since 2012 when the Mines and Minerals Act amendment started, the government has taken a deliberate strategy to address some mining concerns through alternative means such as through policies and statutory instruments rather than endorsing the proposed Bill into an Act.
Weighbridge tenders Currently, all local authorities in granite mining communities rely on figures they receive directly from the mining companies in terms of stone weight and value.
This means that they can be prejudiced of millions of dollars in tax revenues. The revenues are key for the provision of various services in the mining towns such as roads and bridges.
The civil and mechanical cost to construct an average weighbridge is about US$45 000.The cost of such infrastructure can be financed through revenues from miners in partnership with local banks. If the government is sincere in addressing transparency concerns, it would use the tax it collects to construct weighbridges in all the affected areas at a very meagre cost if paired to the revenues losses being made.
 Environmental impact Close to 50 years of granite mining in Mutoko and surrounding areas has left the communities that produce the black granite with scars of massive land degradation, pollution of all forms, and poverty.
Tremors from rock blasting also have a fair share of cracks on nearby houses just as much as the Harare-Nyamapanda road which carries the weight of the 20 to 30 ton trucks ferrying the valuable rock out of the country.
Agricultural land is being transformed into deadly dungeons and dumping sites. Environmental damage has reached alarming levels, while the mining companies take the cheaper route of paying Environmental Management Agency (EMA) fines than incur the exorbitant cost of environmental rehabilitation.
There have been numerous reports of children drowning in water filled pits and livestock deaths from the Nyamuzuwe area in Mutoko.
Besides the existence of the Mines and Minerals Act and the EMA Act Chapter 20:27 which compels mining companies to produce Environmental Management Plans which include impact environmental impact assessments and mitigation measures, the damage continues unabated to this day.
The Mutoko RDC has been contemplating hiking tax royalties to $3 per tonne but that still will not compensate for the land degradation and various scars that granite mining leaves in the area. However, a reasonable levy can be used to capacitate the affected local authorities without hurting the miners.
 The ban, its feasibility The ban on raw granite exports was long overdue as the country aims to implement policies that compel miners to beneficiate close to source.
However, there is a high level of informality and illicit trade which makes it difficult to ascertain if the foreign currency earned by the foreign owned companies is not understated and if it's being repatriated back to Zimbabwe.
The exemption for existing contracts can be exploited through falsifying contractual periods to long term contracts to over 5 years (enough for the miner to recoup, exhaust the resource or divest).
Similarly, those who do not have contracts can use paperwork or declaration documents of companies that have approved contracts.
Therefore, it was necessary for the law to give a blanket timeline or grace period to running contracts.
Illicit trade in granite marketing is rife and exports can still be concealed in containers through the existing network of border officials and law enforcement agents.
It will be extremely difficult for the government to stop the illicit trade and smuggling of raw stones without investing in weighbridges, scanning technology at Nyamapanda Border Post and actual law enforcement to deter criminal activity.
Above all, it will be necessary to provide incentives to local miners to invest in beneficiation as a sustainable policy to encourage value addition.
On the cost to the community and environment, the government must craft legislation that compels the companies to fill in vacated open pits before moving to other mining sites while protecting the community from forced evictions that happen because of mining activities.
The law was overdue; however, it may not be enough to address various issues pertinent to granite mining in the country.
It is the duty of the government to ensure the mining companies (and the investors), respective local authorities, the community and the economy derive maximum benefit from the mining and export of granite.
Bhoroma is an economic analyst and holds an MBA from the University of Zimbabwe. — [email protected] or Twitter: @VictorBhoroma1.