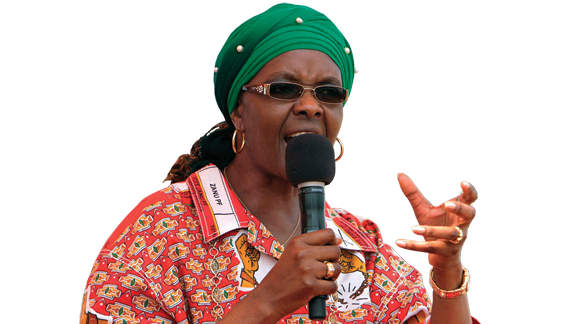 FIRST Lady Grace Mugabe has finally confirmed that her fight with Vice-President Joice Mujuru is personal, but she insists on making it a national problem.
The confirmation came when President Robert Mugabe's wife resumed her onslaught against Mujuru this week with rallies at her Mazowe orphanage where she has been gathering the usual suspects for a platform to hurl insults at her foes.
For the record, Grace has no right to be demanding the resignation of the country's vice-president or any member of the Cabinet. Mugabe is the only person mandated to hire and fire members of his Cabinet.
Grace is clearly overstepping her mandate as a nominee to lead the Zanu PF women's league. Her role as the First Lady is purely ceremonial and if Zimbabwe was a country that prided itself in respecting the rule of law, Grace's antics would concern everyone.
What is more worrying is that the president's wife is prepared to leave no stone unturned in her efforts to bring her nemesis down including invading her privacy.
The First Lady on Monday all but admitted that she has been spying on Mujuru when she claimed to have trapped her in a video speaking ill of Mugabe's family.
In the said video, Mujuru is alleged to have said Grace was forcing "that old man to remain in power because of greed".
Former Education minister David Coltart, who is a renowned legal expert, said the way the footage Grace boasts of possessing was obtained was patently illegal.
Mujuru's right to privacy is protected in the Constitution and it cannot be waived simply because the First Lady is angry at her.
Mugabe continues to watch from the sidelines as his wife rides roughshod over her perceived enemies.
There is no doubt that this has affected government business as ministers suspected to be in Mujuru's camp are being maligned.
Mugabe should assist his wife learn to separate matters of the State and those of her family. We have reached a point where the president needs to show who is in charge.