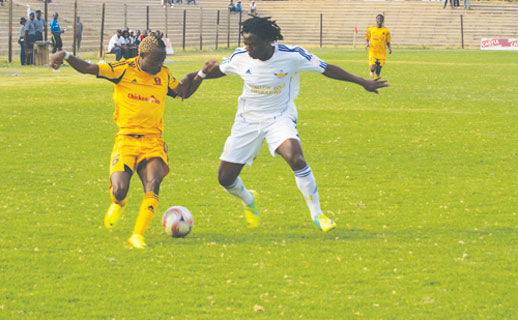 HIGHLANDERS leftback Khumbulani Banda is on his way to Absa Premier Soccer League club Maritzburg United after impressing during trials.
SPORTS REPORTER SUKOLUHLE MTHETHWA
Banda left the country on June 12 for a two-week trial stint and yesterday Bosso chief executive officer Ndumiso Gumede confirmed they had opened negotiations with Steve Khompela's side.
"Khumbulani Banda has impressed Maritzburg United. We are starting the process of negotiating so that we can see what we can get out of him. Do not forget that he grew up in our hands so we expect a little in return from his move.
"By end of the week we should have the finer details. Maritzburg United communicated with us over the weekend and they told us they are ready to sign him and we have just received an email today (yesterday) from Maritzburg concerning the player," he said.
Gumede said they do not stand in the way of a player if an opportunity for a move arises.
"The important thing for us is to clear the misconception players have. Some are reluctant to sign a long term contract because they think that it will be a hindrance if they have been scouted or want to move to another club.
"But this has given us the opportunity to show our willingness to let a player go if he deems there are greener pastures. The player must be allowed to explore opportunities without limits," he said.
Banda, who joined Highlanders at the beginning of the season on a three year contract from neighbours How Mine, did not feature much in the league making only two second half appearances.
Meanwhile, former Highlanders striker Graham Ncube and Cabby Kamhapa could be joining Triangle after they were released by Chicken Inn while Dylan Chivandire has also left the Gamecocks.
Triangle coach Biggie Zuze yesterday said they are hoping to rope in the duo.
"The Graham Ncube deal is half way through. He hasn't been playing so we need to assess him. He should be in Triangle today (yesterday). We are also negotiating for Cabby Kamhapa. Both players are going to give us options if we sign them.
"We have been lacking someone who can pass the ball around in the midfield, Cabby can do that. We have been creating chances but failing to convert them so Graham is going to help us there because he is a natural goalscorer," he said.
Zuze said they are also targeting a ZPC Kariba defender but said he cannot divulge the name at the moment.
Triangle has the likes of Pasca Manhanga, William Mapfumo, Nhamo Lameck, David Sengu, Ronald Mudimu, Courage Denias and Charles Rukwanhi.
Rukwanhi suffered a serious head injury in a league match against Bantu Rovers at Luveve Stadium last week and had to be rushed to Mpilo Central Hospital.
He was restless and bleeding from the mouth and the nose and had a swollen left eye.
Zuze said he is recovering well and should resume light training in a fortnight.