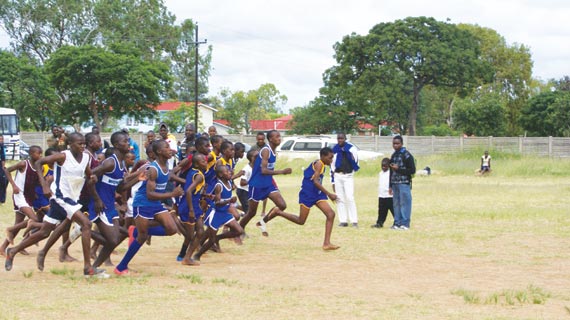 THE Bulawayo Athletics Board (BAB) will on Saturday hold the last qualifying event for the annual Zimbabwe International Trade Fair Coca-Cola Four-Minute Mile Challenge to be held at the ZITF main arena next week. Sukoluhle Mthethwa Sports reporter
Gifford High School will host the last qualifying event for the Delta Beverages-sponsored competition under the Coca-Cola brand. BAB secretary-general Dailes Bingadadi yesterday told Southern Eye Sport they will hold the last qualifiers in Bulawayo on Saturday.
"Twenty four athletes have qualified for this year's Four-Minute Mile Challenge. We are going to have the last qualifiers for this year's competition at Gifford High School on Saturday. We are targeting about 30 athletes to take part in the final of this year's competition," she said.
The qualifying time is four minutes 31secs.
"So far Elijah Mabhunu has got the best time. He qualified in a time of four minutes 12secs," Bingadadi said.
Simbarashe Chikadaga emerged winner in the 2013 final after finishing the race in a time of four minutes 10,10 seconds to pocket $800.
Elijah Mabhunu who seemed on course to win the race, faltered towards the end to finish second in four minutes 10,51secs.
Zimbabwe Prison Service athlete Jonathan Chinyoka was third in a time of four minutes 13,66secs.
Jacob Mugomeri scooped the first prize in 2012 after he clocked four minutes 20,97secs, but failed to make it into the top 10 last year.
Some of the athletes who have qualified are Black Rhinos' Levison Mafuva who finished in four minutes 20secs, Trust Hove (four mins 21secs), Bornface Jeki who crossed the finishing line in four mins 22secs, Tatenda Hove (four minutes 30secs) and Charles Mukanda who qualified in exactly four mins 31secs on March 30 at the ZITF Grounds. Kudakwashe Durban, Dzingai Dandara, Blessmore Chidziva as well as seasoned athletes Wirimai Juwawo, ZPS's Jonathan Chinyoka and Fairbridge's Trust Chidomaya and George Majaji have made the cut.