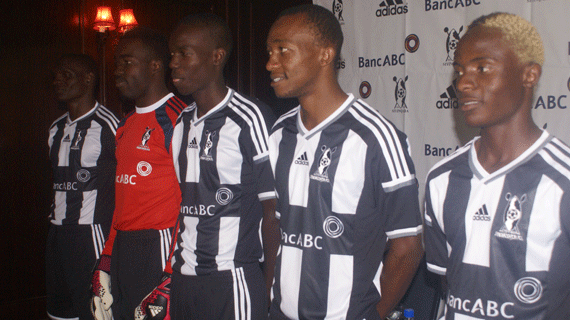 SHABANIE Mine have not beaten Highlanders at Barbourfields Stadium (BF) in the Premier Soccer League (PSL) since their return to top-flight action in 2010. FORTUNE MBELE SPORTS REPORTER
The two sides have met eight times in the league with Highlanders winning six matches and the former asbestos miners winning only two.
Shabanie last beat Highlanders 2-0 in 2011 at Maglas Stadium when the nomadic Luke Masomere was in charge and after that they have lost home and away to the Bulawayo giants.
Head coach John Phiri returns to Shabanie Mine, the team that he brought back to the PSL in 2010. He was in charge when the then asbestos miners beat Bosso 1-0 in May of that year at Maglas only to lose the return fixture at BF with an identical score line.
The two sides will meet in a PSL tie at BF on Sunday in the ninth league clash and Phiri said this time history would be rewritten.
"We are going there with a spirit of winning, but if we can a draw that will be good for us.
"To beat a big team in their backyard will be a step forward for the club, the players and myself but it is going to be a tough task. We will try our best," Phiri said.
The coach, who was at Town United last year and had coached the FC Platinum Under-19 side after leaving Shabanie Mine in 2010, said he had players that have PSL experience.
"Some of my boys have played in the PSL before. Most of the players left. We respect Highlanders as a big team, but they must not underrate us.
"If my boys continue with the confidence they got after the friendly match against Caps United and the win over Triangle, I think we will come out with something on Sunday," Phiri said.
After the exodus of most senior players, Shabanie Mine enlisted the services of former Highlanders and Motor Action player Louis Matawu, Allan Tavariswa, Hardlife Mavundi and grabbed Nelson Meson, Carlos Mesi, Godknows Murwira and Hamilton Masumbuko from relegated Monomotapa.
Last year, Shabanie Mine under Masomere lost 0-2 to Highlanders at Maglas in their first match and 1-3 at BF in the last match of the season.
In 2012, it was the same story, a 0-2 loss to Highlanders at Maglas in May and a 0-1 defeat at BF in September.
They lost 0-3 to Highlanders at BF before winning 2-0 at Maglas in the reverse fixture. Bosso were held to a goalless draw by Chapungu at Ascot Stadium last Saturday and will definitely be out to win the hearts of their multitudes of fans after going for five matches without scoring.
Bosso will be without head coach Kelvin Kaindu, who takes another trip to the UK for the Uefa B Licence and his assistant Mark Mathe will take the hot seat on Sunday.
This time, there will be no excuses from the Highlanders technical team and players if they fail to deliver. They have a competitive squad retained from last year and have added the likes of Kuda Mahachi, Charles Sibanda, Welcome Ndiweni, Valentine Ndaba and Joel Ngodzo, in a bid to challenge for honours.
What has been problematic has been continuity — Kaindu in, Kaindu out.
This is not his last trip to the UK as he still has to return in May for graduation. During this month, Bosso will play Chicken Inn, Caps United, ZPC Kariba and Harare City.