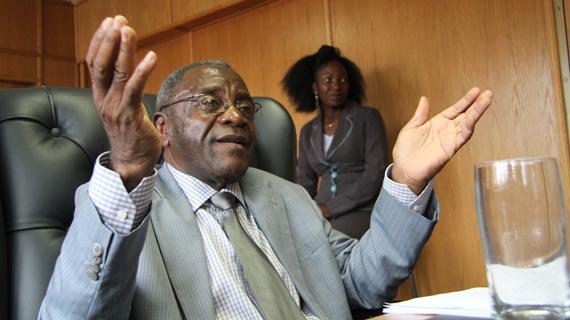 HARARE lawyer Saidi Sangula will find out today if his bid to stop the 2014 Zifa elections, set for next weekend, has been successful with the High Court finally set to deliver judgment in a case that has been postponed twice.
WELLINGTON TONI SPORTS EDITOR
Sangula, who is also a committee member of troubled Premier Soccer League (PSL) side ZPC Kariba, had his case brought before the High Court last Wednesday before it was moved to Friday.
However, his own lawyer Eric Matinenga asked for more time on Friday to study opposing papers that have been filed by Zifa.
Zifa, represented by Lewis Uriri, and the Sport and Recreation Commission are cited as the first and second respondents in the case.
Uriri argues that Sangula has not exhausted the football channels as stated in the new Zifa constitution which states that any appeals against the election should be bought before the Electoral Appeals Committee and dealt with within 96 hours.
"The High Court has no jurisdiction to hear this case because the association's constitution is very clear that when there is a dispute one must go to the Electoral Appeals committee and applicant has not followed that route from the start when he approached the Sport and Recreation Commission," he said.
"Article 60 of the Zifa constitution prohibits taking football matters to the court and by so doing applicant is in violation of clauses of the same constitution which he claims to uphold."
Sangula wants to contest in the elections and contends that if the polls are not stopped he will suffer irreparable damage.
While the High Court case is pending, the electoral committee on Saturday cleared all the four candidates that will contest for the Zifa presidency.
Incumbent Cuthbert Dube is seeking another four-year term and faces the challenge of former association chairman Trevor Carelse-Juul, former PSL secretary-general Leslie Gwindi and Aces Youth Soccer Academy director Nigel Munyati.
Munyati is a member of the current board and was in charge of the marketing portfolio.
Tomorrow, the electoral committee is expected to clear candidates for the vice-presidency of the association where two former Highlanders executive committee members Omega Sibanda and Elkanah Dube will battle to replace the outgoing Ndumiso Gumede.
Harare businessman and Led Travel and Tours managing director Bernard Gwarada is also seeking a post together with former board member (finance) Gladmore Muzambi, former Eastern Region boss Fungai Chihuri, former Warriors defender and current board member (development) John Phiri and Chicken Inn secretary-general Tawengwa Hara.