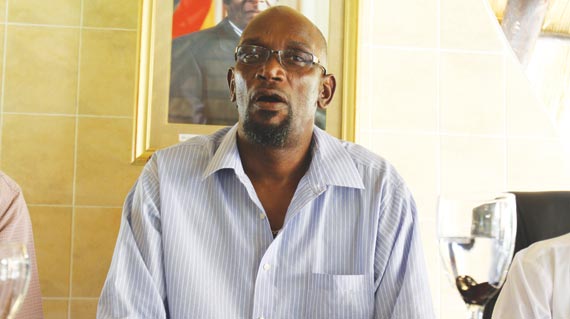 IT'S now official, CAPS United and Dynamos rivalry will spill into management offices as incumbent Premier Soccer League (PSL) boss Twine Phiri and Keni Mubaiwa emerged as the only two candidates for the chairmanship post at the close of the nominations last Tuesday.
Brian Nkiwane
An intriguing two-horse contest is undoubtedly on the cards for the March 9 elections.
Phiri is the owner and president of CAPS United while Mubaiwa is the chairman of DeMbare.
The elections which had been initially scheduled for February 23 have since been moved to March 9 with the verification process which was set for February 13 also having been moved to February 28. Highlanders chairman Peter Dube, who had been rumoured to be the third candidate is said to have opted for the deputy chair's post which he has been holding in the past executive.
Standardsport Editor Brian Nkiwane had a chance to interview both candidates, Phiri and Mubaiwa.
Phiri who fancies his chances of winning the election took over the reins at PSL in 2010 succeeding now-parliamentarian Tapiwa Matangaidze. He feels he still has some projects that he started that he need to complete, thus the need to stay for another term.
Among a host of his achievements as chairman, Phiri has for the past three years managed to bring back sponsors in local football among other things.
"I am very much confident I will retain the post. There are a number of things that I have done for the clubs since the time that I came into office. With the assistance of my board I managed to bring sponsors back into local football which had gone for a long time with an unbranded league. That on its own is a plus to my CV," Phiri said.
During his tenure, Phiri managed to negotiate a league sponsorship deal with traditional football sponsors Delta Beverages who made a surprise return to football after years out of the sport.
Phiri's time also saw the coming in of NetOne on a three year deal to sponsor the season opener, NetOne Charity Shield. There was yet another lucrative deal with local financial institution, BancABC which came in to sponsor the Sup8r Cup.
Then came the biggest of them all; the Mbada Diamonds Cup. Phiri and his executive negotiated for the country's richest 16-team tournament with Mbada Diamonds bringing joy and relief to players, clubs and fans. The tournament itself also had a lot in it for all the stakeholders.
In a summary of his positives, Phiri also mentioned the championing of the Supersport deal where clubs benefited from TV rights although he acknowledged that the proceeds were minimal.
"There is always a beginning in everything. Now we can push for greater things in this deal. Our players have been exposed to other countries through this deal," he said.
"I can tell you that after all these achievements, the corporate world started appreciating football and big companies started putting money in clubs which they sponsor to keep the league running. We have been pivotal in the negotiation of deals for our top two football teams Highlanders and Dynamos with their main sponsors BancABC."