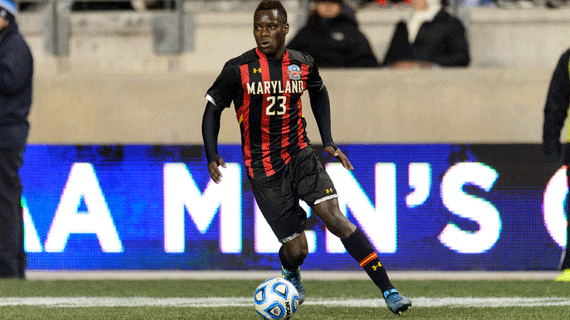 TUCSON — Schillo Tshuma was only 15 years old when he was given the opportunity to leave his parents and five siblings in Zimbabwe and move to the United States to pursue an education and play soccer.
It was a difficult decision. He was competing with Zimbabwe's Under-17 national team at the time, and the coach told him if he stayed in his home country he could one day compete for the senior national team and play professionally in Europe.
But Tshuma's parents had always put education first. And Tshuma's father, Rabson, told his son to leave home and get an education in the United States.
It was a decision that would set Tshuma on his path to the Portland Timbers.
"It was tough at first because I was still young and my whole family were in Zimbabwe," Tshuma said. "But I think it's one of the best decisions I've ever made in my life."
Portland drafted Tshuma 17th overall in this year's MLS SuperDraft. And when the University of Maryland sophomore heard the Timbers call his name, he sat in his chair for a few moments in shock, before excitedly walking up to the stage to shake hands with Timbers coach Caleb Porter.
Tshuma had dreamed about playing professional soccer since he was a small child. In Zimbabwe, soccer is the main sport and children grow up with the game. But very few are given the opportunity to leave home at a young age to pursue their dream.
The forward first started thinking about coming to the United States when his friend and teammate in Zimbabwe, Abel Sebele, was offered a scholarship to attend Episcopal High School in Alexandria, Va.
Four years later, in 2008, Tshuma was given a scholarship of his own to join Sebele at Episcopal through a partnership with Grassroot Soccer, a charity that uses the power of soccer to help promote education and stop the spread of HIV.
When he arrived in the United States, Tshuma spoke his native language of Ndebele and only poor English with a heavy accent. Many of the students at his new school would nod along as he talked, even though they couldn't understand what he was saying. And even the food felt foreign – he had never heard of some of the strange vegetables in United States like broccoli.
Tshuma also had to adjust to a host family. But, over the years, host parents Kathleen and Douglas Caslow and host siblings Scott and Quinn have become like a second family to the 21-year-old, and he still visits them in Virginia.
And, while the young soccer player found it at first difficult to adjust to the rigorous academic classes at Episcopal, he found that he fit right in on the soccer field.
"It's easier to communicate in soccer," Tshuma said. "You can get on the field and just play. Like right now, in Portland, it's a very diverse team and we have people from everywhere, but it's easy for us to communicate on the field."
In 2012, after a stellar career at Episcopal, where Tshuma earned all-state honors three times and was named Virginia player of the year twice, the forward entered the University of Maryland, becoming just the second person in his family to attend college.
After just two years at Maryland, Tshuma decided to enter the MLS SuperDraft. His parents were supportive of the decision, but made their son promise that he would one day finish his education.
"Playing professional soccer is something I've always wanted, but at the same time I know education is very important," Tshuma said. "My parents understand that I've always wanted to play soccer."
During his first few days as a Timber, he was in awe training alongside players such as forward Darlington Nagbe, whom Tshuma would follow on television last season. But the forward is finally starting to feel comfortable and settle in with his new team. Porter said Tshuma is a quick learner, and he's been impressed with the way the Generation Adidas signee has performed on the field.
In his first game in a Timbers uniform, Tshuma scored Portland's lone goal, with a clever chip over Sporting Kansas City goalkeeper Andy Gruenebaum, to help his team earn a 1-1 tie in the first preseason game of the year.
"We're only 10 days in, but he's done well," Porter said. "He's shown, obviously, in a game that he can pull off a play. That's another little picture that gets you excited."
Tshuma knows it will be an uphill battle if he hopes to start – or even see significant playing time — with the Timbers this season.
At the moment, Tshuma is competing for a starting spot with midfielder Kalif Alhassan, entering his fourth season with the Timbers and who Porter said is currently ahead of Tshuma. And when Diego Valeri and Steve Zakuani return to full health, there will be even less of an opening for Tshuma in the starting lineup.
But Tshuma has come a long way to finally live out his professional soccer dreams in Portland. And he's ready to compete for a spot on the field.
"It's very competitive," Tshuma said. "Everybody is very good and it gives you motivation to know that you're fighting for a spot with other good people. I'm just working hard to make sure I'm improving every day and showing the coaches what I can do."
—OregonLive