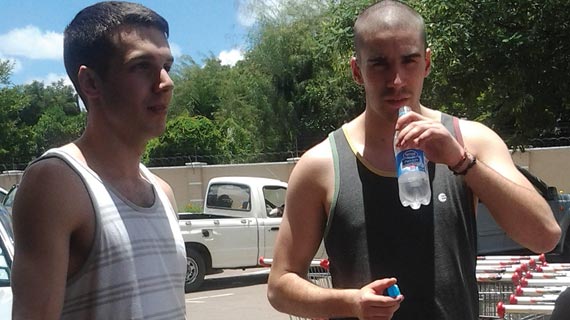 THE two Canadian First Mobile Sports Academy (FMSA) players, striker Phillippe Barriault and goalkeeper Jean-Felix Lemieux were due to join the Highlanders pre-season training camp at Heath Streak's farm in Inyathi yesterday after meeting with the club's executive committee.
FORTUNE MBELE SPORTS REPORTER
FMSA Zimbabwean representative Allan Mpofu yesterday said the two players had met Highlanders chairman Peter Dube and arrangements had been made for them to join camp. Mpofu had said he would be driving them to Inyathi later in the day.
"We have met with the executive and it has been agreed that the boys join camp in Inyathi. They actually met with the chairman this morning (yesterday) and they have been much welcomed. I will actually be driving them to camp later in the day and hand them over to the technical team.
"After that it will be the technical team which will make comments on the boys, not me," Mpofu said.
Highlanders treasurer Jerry Sibanda confirmed that they had met with the two players, but said he had to leave the meeting early, referring questions to chairman Dube, whose mobile phone went unanswered.
Barriault (20) and Lemieux (19) arrived in Bulawayo from Johannesburg, South Africa, on Sunday morning for a six-month attachment at Highlanders. If they impress the coaches in pre-season, they might be registered for the Premier Soccer League (PSL).
They join 18 Bosso players who travelled to Inyathi on Monday afternoon for a seven-day intensive training camp and include new signings Joel "Josta" Ngodzo, Valentine Ndaba, Welcome Ndiweni, Khumbulani Banda and goalkeeper Njabulo Nyoni.
On Saturday, the two said they were looking forward to impressing the Highlanders coaches and playing in the PSL with goalkeeper Lemieux saying he wouldn't mind a long contract with the Bulawayo giants if the coaches wanted him.
Their move to Highlanders was facilitated by FMSA director Isaac Mbedzi, a Zimbabwean coach based in Canada and the academy and their parents are taking care of their stay in Zimbabwe.
Players in camp in Inyathi include skipper Innocent Mapuranga, Mthulisi Maphosa, Bruce Kangwa, Erick Mudzingwa, Dumisani "Fazo" Ndlovu, Simon Munawa, Hillary Madzivanyika, Douglas Sibanda, Gabriel Nyoni, Cleopas Dube and Mgcini Sibanda.
Goalkeeper Ariel Sibanda was expected to join camp yesterday.
Save for head coach Kelvin Kaindu expected next week, the entire technical team of assistant coach Mark Mathe, goalkeepers' coach Peter "Oxo" Nkomo and welfare manager Willard Mashinkila-Khumalo is in camp with fitness trainer Majaha Ndlovu.