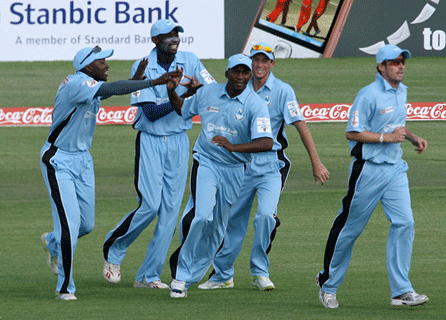 THE resumption of Zimbabwe's domestic cricket season is still hanging in the balance after local cricket governing body and players failed to find common ground during their second meeting in the capital on Wednesday.
DANIEL NHAKANISO SPORTS REPORTER
The two parties were expected to meet for the third time late yesterday in an attempt to try to end an ongoing strike that has already plunged Zimbabwe's preparations for the ICC World Twenty20 competition into turmoil.
Cricket sources told sister paper NewsDay Sport on Wednesday that the strike looked set to continue after the players refused the Zimbabwe Cricket (ZC) board's proposals during the first meeting last Saturday.
According to the minutes of the meeting seen by sister paper NewsDay Sport, ZC, who owe Metbank $15 million proposed to give the players part payment of the outstanding salaries from a sponsorship deal that is currently being negotiated.
"The players rejected the board's proposals and stuck to their original position that they will not take to the field until all the players in the country including the franchise players, are paid all their outstanding dues, that is, salaries and the match fees,"the source said.
The ZC is said to have promised to pay the players all outstanding amounts on receipt of ICC funds at the end of January 2014 or early February, compensation for all late salary payments and that ideas would be exchanged between ZC and the players.
ZC chairman Peter Chingoka is said to have expressed confidence that the ZC business plan would be accepted by the world governing body, the International Cricket Council.
However, players insisted they will not play until they receive their salaries, which means there is no fixed date for the resumption of the first-class league.
According to the ZC calendar, domestic cricket matches are expected to resume tomorrow.
Mashonaland Eagles are scheduled to host Southern Rocks in a Pro-50 match Harare Sports Club tomorrow before playing the same opponents in the Logan Cup starting on Monday.
In the other matches, defending Logan Cup champions Matabeleland Tuskers were earmarked to host Mountaineers at Queens Sports Club. Zimbabwean cricketers resorted to industrial action in December last year due to non-payment of salaries and match fees, stretching over several months, by ZC.
Already the player strike caused a boycott of some domestic matches and the cancellation of the tour by the Afghanistan cricket team. ZC were unable to host Sri Lanka late last year because of money problems.
National cricket team captain Brendan Taylor told Associated Press on Tuesday that he was hopeful a solution would be found so that the team would start their preparations for the ICC World Twenty20 (T20) tournament in Bangladesh starting in March.
"We feel this has gone on for too long and in the process we have lost lots of valuable practice time," Taylor said.
"(We) would want to get over it and concentrate on the core business, which is playing cricket, especially considering that we have the World T20 coming up soon."