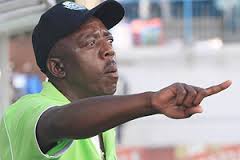 One of the country's most celebrated football coaches Rahman Gumbo will definitely sit on the bench next year as he has been taking a back seat to upgrade himself in other personal areas, his agent has said.
SPORTS REPORTER
Omega Sibanda, Gumbo's agent, on Friday told Southern Eye Sport that the former Warriors and Highlanders gaffer had received several offers locally and outside the country. The former Bosso player is considering the destination for next year.
"He needs a job next year. He has been assisting here and there and has been upgrading his managerial skills. Next year he will definitely be back on the bench. We have received a number of inquiries from outside and within. Gumbo wants a challenging job and we will tackle the inquiries as they come and look for a better deal," Sibanda said.
Sibanda rubbished claims by Swaziland's Mbabane Swallows that the coach had asked for a salary of $12 000 saying the Birds had offered the coach 8 000 emalangeni, which was equivalent to $800 and Gumbo would not have that.
"They (Swallows) asked for his CV which we gave them and the day before yesterday the acting chief executive officer (Sibusiso) Manana called and we asked him how much they offered and he said E8 000 which is equivalent to R8 000.
"We never talked about salaries. We have never had any official discussion with them. We are still open to discussions with them," Sibanda said.
Gumbo has coached quite a handful of Premier Soccer League clubs in the country and has won two championships with Highlanders.
He won the championship with Malawi's MTL Wanderers before heading to Botswana where he won the league with Township Rollers in 2010 before joining Mochudi Centre Chiefs.
Gumbo returned to join FC Platinum, coached the Warriors before joining Division One side Bulawayo Chiefs as technical advisor.
He sat on the bench at Chiefs this year before he was reassigned to the club's academy with Thulani Sibanda taking over the team that he started with at the beginning of the season.