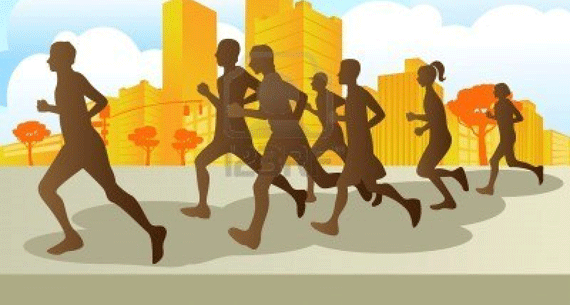 BATTLE-HARDENED long-distance runner Cuthbert Nyasango will be hoping for another good show by his family members ahead of the Simon Muzenda-Gutu half-marathon race which kicks off this morning in Masvingo. KENNETH NYANGANI SPORTS REPORTER
A field of over 1 800 athletes, including the country's top 26 athletes, is expected to cross swords in various categories.
The family managed to put up a sterling display at the recently held Westgate half-marathon in Harare.
Constance Nyasango sister to the Olympian, came first in the female 21km category to walk away with a whopping $3 000.
Faith Nyasango came third and was rewarded with $1 000 prize money in the same category with Rutendo Nyahora coming second.
Eventually, the family went home $5 000 richer after Cuthbert Nyasango also came third in the 21km male category and he took home $1 000.
Faith and her sister-in-law Constance are proving to be a force to reckon with on the local front as both athletes respectively came second and third respectively at the Old Mutual 21km Vumba Mountain Run recently in Vumba.
In an interview with sister paper Standard Sport on Friday (Cuthbert) Nyasango was oozing with confidence even though he added it would not be plain sailing.
"We are hoping to continue with our fine form. We did well at the Westgate half-marathon.
"We are working together as a family and this gives us strength to come out with good results," he said.
"As for me, I will also be doing it for fun, last year I came third at the Gutu race and this time around l will be hoping to be in the top three again.
"I have been training very hard for this race and I must admit that it is not going to be a stroll in the park," he added.
Organiser of the race, Titus Madzingo, was optimistic that this year's tournament would again prove to be one of the competitive races in the country.
"Preparations went on well and I can declare that we are now ready to host the event, everyone is raring to go.
"We are expecting about 1 800 athletes from all categories and the registration will held on Saturday (yesterday)," he said.
This year's winners in both female and male categories will walk away with $2 500 respectively.
Madzingo added that they will as usual reward Masvingo residents for excelling in this race.
"As usual, we are going to reward the first resident of Masvingo up to third.
"It does not matter the finishing number as long as they will be the first residents of Masvingo to hit the line.
"The one who comes first will get a plough and $150, second place getting harrow and $100 while third place will get a bicycle and $50," Madzingo added.
Other races on the offer are 10km, 5km and wheelchair races respectively.