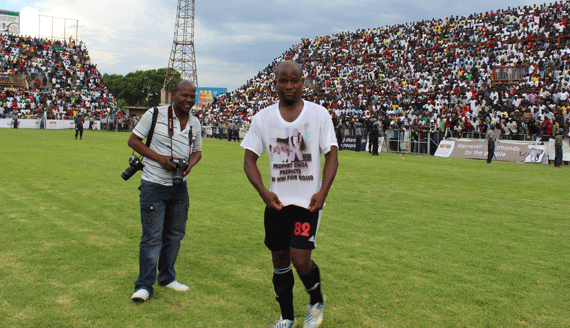 THE weather was hot and so was the Mbada Diamonds Cup final at Barbourfields Stadium (BF) yesterday pitting Premier Soccer League (PSL) runners-up Highlanders Football Club against giant killers, debutants How Mine Football Club, amid a sea of black, white and blue.
Thandiwe Moyo Own Correspondent
An estimated 22 000 football fanatics packed BF braving very hot temperatures.
Some flew into Bulawayo from all corners of Zimbabwe while others drove into the City of Kings, with multitudes sauntering into BF to witness the clash of the proverbial titans as Bosso and Chikurupati jostled for the prestigious Mbada Diamonds Cup, the top paying tournament in the country.
Bosso — still smarting from surrendering the Castle PSL championship to bitter rivals Dynamos Football Club, DeMbare, for the second consecutive year running on goal difference — last won a major cup in 2006.
It, however, did not deter Highlanders from shrugging off a token challenge from a How Mine that appeared overwhelmed by the occasion, to bag the rich Mbada Diamonds Cup in a 3-0 scoreline.
Despite the scorching heat, thousands of Highlanders supporters, probably with fingers crossed following prophet Blessing Chiza's prophecy, turned out at Emagumeni, in black, white and all the colours in between.
They sang from start to finish, cheered and jeered at their team and opponents.
The incessant singing and chanting appeared to bring the best out of the players donning the Highlanders jersey, who to all intents and purposes, had largely appeared mediocre during the course of the 2013 PSL campaign.
While the boisterous Bosso fanatics filled the Soweto End, Empankweni and the wings, the Mpilo End resonated with songs and chants from Dynamos supporters who were urging How Mine to deliver a bleak Christmas to Highlanders whose executive has been under fire for allowing their Zambian coach Kelvin Kaindu to go for a course in the United Kingdom at a time the team needed him most.
As players concentrated on the game, VVIP guests jostled, pushed and shoved for freebies — food, beer, soft drinks and Mbada branded T-shirts, much to the delight of the less VIP. Editors from different publications, journalists from across the country, officials from the PSL, Zifa, Mbada and different organisations were given VIP treatment during the match with some seen quaffing whisky and beer, despite alcohol being banned in football grounds.
Mbada haiite, mushonga hauite, Mwari Makanaka, Tichanoimba Hosanna, Jesus is a winner sang some Highlanders players as they celebrated their thumping of How Mine — as well as taking at dig at dejected Dynamos.
Bosso players paid tribute to prophet Chiza as Njabulo "Tshiki" Ncube called on his mates to look for the man of cloth — probably to shake his hand. They wore T-shirts inscribed: Prophet Chiza predicts big win for Bosso.