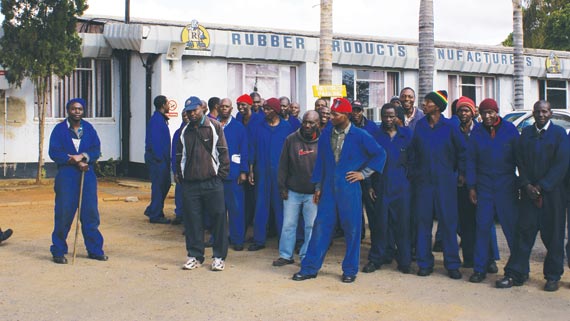 BULAWAYO-based manufacturing concern Rubber Products Manufacturing (Pvt) Ltd has put its workforce on forced leave.
GAMMA MUDARIKIRI OWN CORRESPONDENT
Workers have not been paid for the past eight months with management saying the company is technically insolvent.
When Southern Eye Business visited the company premises yesterday management had locked itself in offices after protesting workers had invaded the reception area demanding their unpaid salaries.
The disgruntled workers, set to go for the festive season with empty pockets, said the management's decision to send them on forced and unpaid leave was followed by the disconnection of power by Zesa this week over unpaid bills.
Employees claimed the Zesa debt amounted to $68 000.
"We have not been getting our salaries for the past eight months and the company is telling us that it has no money," one disgruntled worker speaking strictly on condition of anonymity for fear of victimisation said.
"How do we survive? Right now the management has locked itself in offices and it is refusing to talk to us on the way forward with regards our unpaid salaries," added the worker.
According to the workers, the company was set to close for the festive season on December 13 and open on January 20 next year, but with Zesa disconnecting electricity, employees were sceptical on the reopening of the firm.
"We are no longer sure if the company will open again, after electricity was disconnected. We are owed salaries for over eight months," one worker said.
Workers said they had reached a dead end after the Zimbabwe Chemicals, Plastics and Allied Workers' Union stopped representing them as their company had stopped remitting monthly subscriptions to the union.
Management, however, refused to comment and told the Southern Eye news crew to leave the company premises threatening unspecified action.
"I don't have a comment on this issue, but the chief executive officer of the company sent me to tell you that you should leave our premises," the human resource manager Charles Shumba said.
Workers at the firm early this year staged an industrial action in protest over unpaid salaries.
The company is one of many in Bulawayo battling with shortage of working capital, antiquated machinery, among a plethora of challenges. Companies like Marvo (Pvt) Ltd, Road Motor Service (Pvt) Ltd have also not paid their workers for over eight months.
Industry in Bulawayo is in financial distress and companies in the city continue to close shop with last year alone recording close 100 shutdowns.
Industry in Bulawayo needs an estimated $400 million to recapitalise. The government, however, is battling to fund industry with the disbursement of Distressed Industries and Marginalised Areas Fund moving at a snail pace.
Treasury has only released $13 million of the fund from the initial allocation of $40 million.