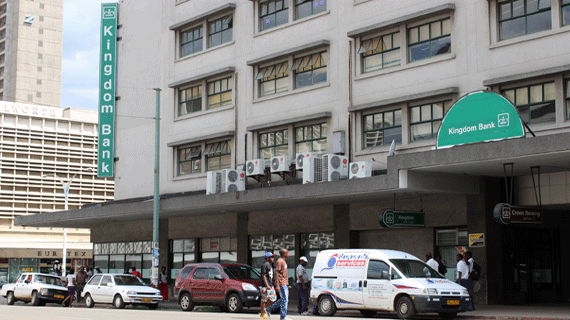 KINGDOM BANK is closing its Beitbridge branch this month-end in a move likely to inconvenience hundreds of account holders amid a severe liquidity crunch rocking the country's fragile banking sector. GAMMA MUDARIKIRI OWN CORRESPONDENT
In a notice yesterday, the bank said it would close its branch in Beitbridge by end of November, but the financial institution was quick to point out that affected members of the public would be transferred to other branches.
"With effect from Saturday 30th of November 2013 at 11:30am, Kingdom Bank Beitbridge branch located at shop number 12 Zesa Pension Fund Complex will be closed," the bank said in notice.
"All accounts currently maintained at this branch will be transferred to any other branch of your choice where our teams will be available to give you service," the bank added.
Kingdom Bank has been going through turbulent times. It was recently reported that the bank was facing censure by the Reserve Bank of Zimbabwe after it emerged that the financial institution was reeling under a massive $21 million under-performing loan and could be placed on recuperative curatorship to protect depositor funds and the banking sector.
The founder and major shareholder, Nigel Chanakira, recently sold his 30% stake to Mauritius-based AfrAsia Holdings Limited in a cash and equity deal that could see him take over AfrAsia's 35,7% interest in the company's Botswana unit.
AfrAsia moved into Kingdom in January 2012 after acquiring a 35% stake for about $9,5 million as the bank looked for new investment in order to meet statutory minimum capital requirements.
Speculation that Chanakira would leave the group emerged in July this year after Kingdom Bank was forced to write off a huge chunk of a $21 million non-performing loan extended to a local telecoms firm.
The banker insisted, at the time, that he was staying put, adding the $21 million bad loan and efforts to find a solution to the problem had been approved by the bank's board and regulatory authorities.