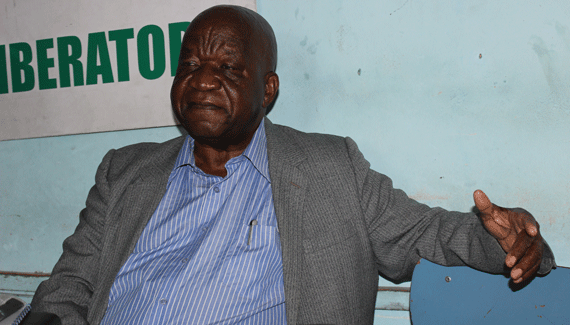 ZANU PF Bulawayo provincial chairperson Callistus Ndlovu has resigned from the party's central committee to formally contest for the provincial chairmanship in elections slated for this weekend after attempts to impose him by some senior party members hit a brickwall. NDUDUZO TSHUMA STAFF REPORTER
Ndlovu's resignation was confirmed to Southern Eye by Zanu PF provincial commissar Silas Dlomo.
"Yes, Comrade Ndlovu has resigned from the central committee. His resignation letter has been received," Dlomo said.
Ndlovu reportedly told a provincial co-ordinating committee meeting held at the party's Davies Hall provincial headquarters in the city on Sunday that he had resigned from the central committee to participate in the elections.
There was a row before Ndlovu's resignation with some party members saying it was illegal for him to contest in the polls as he had not resigned from the central committee.
A circular from the party's national commissariat department was sent about a month ago directing members who currently hold positions in other party structures to first resign for them to become eligible to contest the provincial polls.
Initially, some politburo members wanted Ndlovu to retain the seat unopposed arguing that he had managed to steer the party in the "right" direction since being appointed into the role and also adding that he was a professor and it did not make any sense for him to be succeeded by a "Grade 7".
Ndlovu will face his deputy Killian Sibanda and Douglas Ndlovu after three other candidates Joseph Tshuma, Simon Khabo and Tendai Ncube pulled out of the race.
Meanwhile, Matabeleland North provincial chairperson Richard Moyo is set to clash with his deputy Reeds Dube for the party's top provincial post.
Dube is also losing candidate in Hwange Central National Assembly elections on July 31.
Interestingly, Dube headed Moyo's campaign when he was elected provincial chairperson in the run-up to the Zanu PF annual conference in Gweru in 2012.
Moyo won the contest after his then rival Patrick Utete, a reported ally of former Matabeleland North governor Thokozile Mathuthu, conceded defeat before the conclusion of the party's electoral process after 139 out of the party's 181 districts had cast their votes.
In Matabeleland South, incumbent Andrew Langa is set to face off with Lloyd Siyoka and Phumuza Ndlovu.
Related Topics