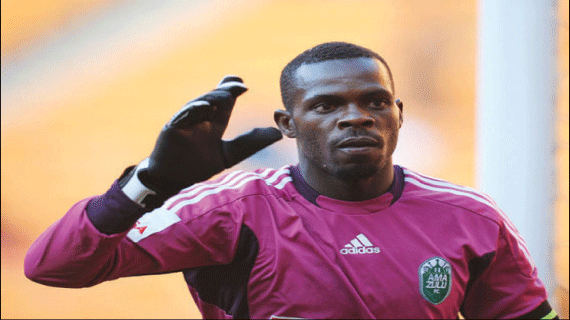 JOHANNESBURG — AmaZulu captain Tapuwa Kapini admits that Tuesday night's crushing defeat at the hands of Mamelodi Sundowns reflects badly on him as a goalkeeper, regardless of who was at fault for the goals.
Usuthu were massacred 7-1 in the season's highest scoring match to date and naturally Kapini, a Zimbabwe international, felt humiliated by the scoreline.
"As a keeper it doesn't reflect well on you whether you are to blame or not for all seven goals," Kapini said.
"I cannot blame myself, but we have to take the responsibility as a team especially all those who were on the field last night.
"For me as an international, I am definitely feeling ashamed that I conceded so many goals in one match, but I believe we have to turn this situation into a positive.
"We really need to seriously look at ourselves as players at AmaZulu and be honest about what we are here for and what we want.
"We cannot start believing that we have achieved (something)just because we were in the top four after just six games before last night's game.
"My fellow teammates know that I wasn't happy at all about what happened last night which is why I called a meeting for us players to that we could fix things among ourselves before we even get to hear what the coaches have to say.
"The main challenge right now is to make sure that this doesn't happen again because as a professional team we cannot continue conceding such silly goals.
"What happened last night was a disappointment to the coaches, management, sponsors and our fans."
It was the fourth time that Kapini has conceded at least half a dozen goals. He let in six against Espérance in a Caf Champions League match in 2003 while still at Highlanders; another six in 2009 against Golden Arrows while at Platinum Stars, and again last term against Kaizer Chiefs.
"I have been in this situation and what you need to do is keep your head up," Kapini said.
"Luckily after last night I had Wayne Sandilands (ex-Stars teammate and Sundowns keeper) showing me support along with Peter Ndlovu (Downs team manager).
"They both told me that it is challenges like these that you must rise from to prove your character."
With the KwaZulu-Natal derby against Maritzburg United next on the menu for Usuthu, Kapini has fired a warning to their neighbours.
"I actually just wish Sunday's game was today so that we vent our anger on them," Kapini said.
"After such a result you will always be angry and whoever becomes your next opponent gets to become a victim."
– KickOff