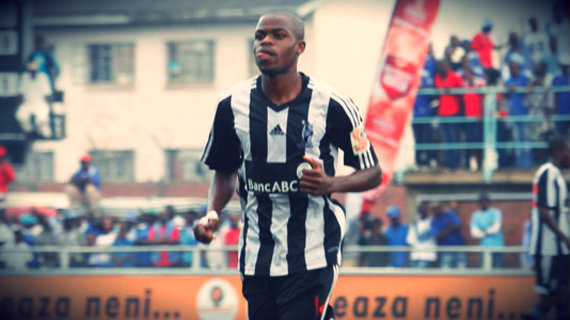 Black Rhinos . . . . . . . . . . . . . . . . . . 0 Highlanders . . . . . . . . . . . . . . . . (1) 3
Brian Nkiwane SPORTS REPORTER
HIGHLANDERS ran riot trouncing hosts Black Rhinos and maintaining the lead at the top of the Castle Lager Premier Soccer League log at Rimuka Stadium in Kadoma yesterday. Bosso became the first team to beat Chipembere at home.
The Bulawayo giants got their goals through Njabulo Ncube on 41 minutes before Masimba Mambare scored a brace in the second half.
Bosso broke the Rimuka jinx where no other top-flight side had scored against Rhinos since they shifted base to Kadoma in June.
FC Platinum, Dynamos, Shabanie Mine, Black Mambas and Buffaloes all failed to score at Rimuka.
After the match, Bosso coach Kelvin Kaindu said he was pleased with the performance and result, but warned his charges against getting carried away.
"We played well, but we must not get carried away," Kaindu said. "I made the decision to put Mthulisi Maphosa on the bench after I had been told the pitch was bad. I had to introduce him in the first half because the pitch is not that bad (after all)."
Black Rhinos coach Arthur Tutani said his team was outplayed.
"We had our own chances in the first half which we failed to utilise , but Highlanders are just a good side," Tutani said.
The match started off with Rhinos threatening Highlanders, but goalkeeper Tichaona Diya kept them at bay.
Speed merchant Philip Marufu gave Bosso defenders a torrid time, but his fellow frontman failed to make use of the chances he made.
Bosso were rewarded when Njabulo got to the end of a Milton Ncube cross.
After the break Kaindu introduced Beavan Chikaka to add fire power upfront and the substitute soon provided Mambare with an assist for the latter's first goal.
Mambare returned to put the match beyond Rhinos' reach when he finished off with a simple tap from an Simon Munawa cross.
Teams Black Rhinos: Hebert Rusawo, Brighton Chandisaita, Milton Kurewa, Jim Shadreck, Bruce Homela, Blessing Sunday, Brian Muzondiwa (Gilbert Mushangazhike 57min), Wonder Kapinda, Philip Marufu, Trust Machacha, Lot Chiunga, (Mine Martin 60min).
Highlanders: Tichaona Diya, Eric Mudzingwa, Bruce Kangwa, Innocent Mapuranga, Hillary Madzivanyika (Beavan Chikaka), Simon Munawa, Douglas Sibanda (Mthulisi Maphosa), Masimba mambare, Dumisani Ndlovu, Milton Ncube, Njabulo Ncube (Bruce Chuma).