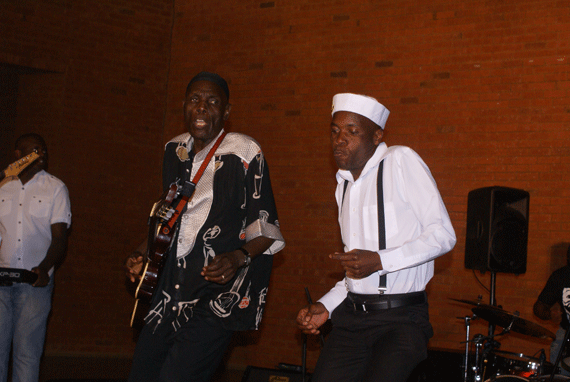 IN the 21st Century the Zimbabwean music industry has endured a lot of struggles with artistes partly to blame.
RONALD MOYO OWN CORRESPONDENT
Economic instability in the country is the most vivid example and a leading factor that has destroyed the industry.
To a certain extent artistes are to blame and perhaps should shoulder their burden quietly.
Currently, a crop of musicians has emerged in numbers in Zimbabwe, but what differentiates them from the old crop which featured Lovemore Majaivana, Oliver Mtukudzi, Thomas Mapfumo, the late Learnard Dembo and Chiwoniso Maraire, to mention only a few, is that this century's music industry is mediocre.
Artistes lack creativity and originality in their work such that they have failed to come up with their own genrés.
Their lack of creativity and originality in their products is a limitation to fortune and as such most of them are still living under squalid conditions albeit producing a lot of albums.
One Frankfurt scholar Walter Benjamin once mentioned that in the age of mechanical reproduction the work of art has lost its aura, which is true of the Zimbabwean society.
New technological gadgets have emerged to be double-edged swords, killing both the artistes and audiences.
The latter are starved of original musical tunes while the former suffer from failure to retain their economic rights.
In today's music there is too much computerisation of tunes and voices.
In other words we now boast studio artistes who cannot perform live shows because they are not good musicians while in time immemorial we have been boasting true talent.
In this day and age it is the computer that does a lot of singing.
The likes of Mtukudzi, Mapfumo, Majaivana, the late Chiwoniso and Dembo had an element of creativity in their work and their musical genrés were identifiable unlike today's artistes whose musical genrés are difficult to identify.
Today's music is very predictable because artistes have the tendency of producing and reproducing their products trying to stick to tried and tested formats.
Repetition of same monotonous instrumentals puts off listeners who would be expecting something new because monotony leads to boredom. Artistes fail to make money out of their songs.
In this day where piracy has emerged to be the order of the day, artistes can only make money out of their music through performing on live shows. Unfortunately most of them cannot perform on stage yet they claim to be singers.
Most of them rely on instrumentals of artistes from other times for their songs — which is piracy on its own. Ironically artistes cry foul and are up in arms with piracy while they are also committing the very same mischievous act.
Various artistes from traditionally marginalised areas point out to factors such as tribalism, favouritism and nepotism at studios for the death of the music industry, yet another fact is that people are tired of listening to monotonously repeated music.
Although Bulawayo artistes complain about marginalisation by the media, they still need to up their game because their music faces stiff competition from South Africa.
The Ndebele language is more like Zulu, thus to receive as much audience attention as possible one has to put up a product that can outclass the South African ones.
The 75% local content suggested as solution to breathe life to the falling Zimbabwean music industry will serve no purpose in this epoch. Social actors are grateful to technological advancement.
Audiences are not zombies, they make choices and cannot be forced to listen or watch what they do not relish.
The media should serve the interests of the people and for the same reason the broadcasting media will only air material audiences relish well.
So it is common sense that if one's tracks are to be continuously played they should be of high quality — please audiences who pay for their licences.
The springing up of many studios has also compromised the quality of music products. While old artistes sang because they were talented, we now have another generation where people sing because they have easy access to studios.
Cultural hybridisation has been used by a number of local artistes as an authentic justification for their failure to produce their own musical genrés and their continual use of other people's material shows how local artistes have became engrossed in other people's genrés.
Last month the Information Media and Broadcasting Services minister Jonathan Moyo answered many questions from Bulawayo artistes who blasted the broadcasting media for not broadcasting their material on air, citing it as the most cancerous factor that thwarted their capabilities of being great musical artistes.
Although this might be another factor to consider, it is also true that they are themselves to blame.
They face stiff competition from the South African music industry, so if they are to compete well they should up their game first.