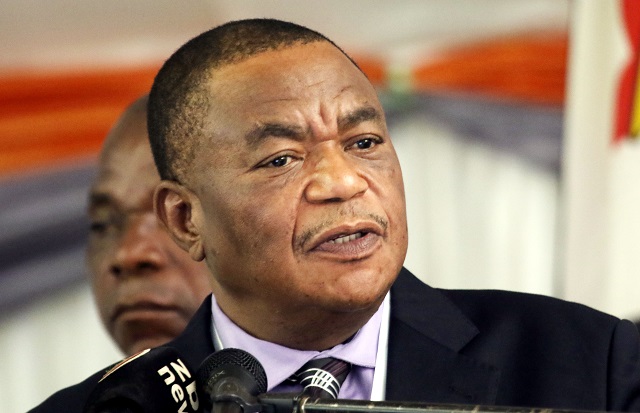 SYDNEY KAWADZA "MY medical aid is dying, and so is my child. It is the call every parent dreads, especially if the medical aid is under Premier Service Medical Aid Society (Psmas)."
Imagine a call from the school telling a parent that his/her child is not feeling well, and instantly, images of the cost of collecting the pupil from school flash through the parent's mind. Hard on the heels is the realisation that even after bringing the child home, they may not be able to do anything about the child's treatment.
Mairos Nyangani (48) is a civil servant and has been teaching at a school in Nyamapanda for the past 15 years.
He earns approximately ZW$60 000 (around US$150) a month in basic salary and from that ZW$1 030 (US$2,63) is deducted as medical aid for himself, his wife Charity (42), and three children Onesimor (17) (who is asthmatic and in boarding school in Mutoko and is the reason for the phone call), Patricia (14) at a local secondary school and Makaita (9) at the same school where Nyangani teaches.
He narrates the story of how he managed to raise the bus fare to Mutoko, to take his son to Harare for treatment.
"I could not bring him here for assistance. The local hospital and clinics were empty, and the health workers were hardly able to assist. They all have a new byword — incapacitation. My plan was to take him to Harare, which is the nearest place I can access a Premier Service Medical Aid Society (Psmas)  clinic," he said in an interview recently.
Nyangani is a member of Psmas, which he joined as soon as he began work in 2007.
"I was not prepared for what met my eyes when I got to the Psmas clinic. The staff was not helpful. It seemed they were not willing to attend to us. We later found out they had not been paid and were demonstrating through slow service," he said. "Eventually, I was referred to another service provider who asked him to pay a US$30 co-payment "because Psmas haisi kutibhadhara (Psmas is not paying us). On my salary, I cannot raise this kind of money. All this time, my son was breathing as if he was in the corridors of death. All I could think of was, 'My medical aid is dying and now, so is my child'."
Psmas has been in the news for the last few months on issues of no real value to Nyangani's latest predicament.
"I hear people talking about shareholding and control of medical aid. Right now, this does not help me. Where is the member in this discussion? People are looking for positions while my son is gasping for breath."
The Public Service Commission (PSC), through its Secretary Ambassador Jonathan Wutawunashe, triggered war with Psmas when it launched a Press conference in April which reported that ZW$6 billion (US$15,3 million) had been paid out to Psmas in 2021.
He said this amount should have been sufficient to ensure quality service for Psmas members. The PSC made allegations that Psmas was abusing funds.
Civil service unions and the media dissected the figures put out and concluded that the PSC was asking the medical aid society to provide a four-course meal on a budget for buns and freezits (coloured sugar water drinks sold in plastic sachets).
The figures indicated that the PSC was paying around ZW$1 800 (US$4,60) per month per member, which came up to around ZW$21 600 (US$55) per year.
In the period after Wutawunashe's statement, Health minister and Vice-President Constantino Chiwenga indicated that the government was aware of the problems facing Psmas and its subsidiary Public Service Medical Investments (PSMI).
Chiwenga added that the government would act to address the challenges at Psmas by bailing the organisation out. To date, this bailout has not been provided.
Instead, what has followed has been a tale of political involvement with a planned Psmas Annual General Meeting (AGM) set for June 30, 2022 cancelled on the eve of the programme, with a forensic audit ordered by the parent ministry and allegations of a systematic squeezing of finances to Psmas.
The government maintains that it is up to date with its payments, a situation that Psmas has never disputed, but counters the issue with an argument that the struggles are not around the status of the payments but the quantum.
"The proposed subscription for Psmas, three years ago, was the equivalent of US$30 per month, which would allow the organisation to drop co-payments and shortfalls. The current subscription is now less than US$3 per month. Competing medical aid societies are charging approximately ZW$40 000 (about US$100) for their cheapest packages," a Psmas official told the Zimbabwe Independent on condition of anonymity.
The medical aid society recently expressed concern over the unprecedented increase in the cost of medicines, which had seen members parting with huge shortfalls and or co-payments.
The shortfalls and co-payments, according to Psmas, were necessitated by increases in service provider charges which went up by over 150% over the past six months while some service providers were demanding payments in foreign currency.
Zimbabwe Confederation of Public Sector Trade Unions vice-president Goodwill Taderera recently told the media that the government should engage its employees to work on giving civil servants the working conditions they deserve.
Responding to enquiries by the Independent, Psmas spokesperson Paidamoyo Chipunza said the medical aid society regularly communicates with its members and member organisations on all issues regarding their welfare, including subscription rate reviews.
"For the public sector, there are ongoing engagements with the government for subscription review, and there are positive indications that an agreement will be arrived at soon. With regards to the private sector, reviews are done in response to both inflation and exchange rate movements from time to time. In both instances, the Society's desire is for members subscriptions to be commensurate with expected member benefits," she said.