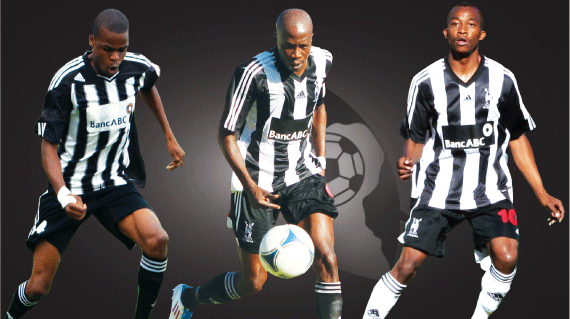 Highlanders . . . . . . . . . . . . . . . . (0)3 Buffaloes . . . . . . . . . . . . . . .. . . . 0
BRIAN NKIWANE IN MASVINGO
HIGHLANDERS turned on the heat in the second half to thump Buffaloes and storm into the semi-finals of the Mbada Diamonds Cup after a five-star performance at Mucheke Stadium, Masvingo, yesterday.
It was the introduction of midfield maestro Mthulisi Maphosa that changed the complexion of the game as Bosso grabbed two quick goals in the 63rd minute through him and former Monomotapa player and man-of-the-match Masimba Mambare.
However, it was not a happy ending for Mambare as he was taken off the field of play at the end of the match, complaining of a severe headache.
Another second-half substitute Milton Ncube made it three for Bosso to put the game to bed with his first touch of the ball.
A jubilant Highlanders coach Kelvin Kaindu said they had decided not to play Maphosa on the starting line-up due to the bad state of the pitch.
"We thought the pitch was not ideal for a ball player like Maphosa, but at last we had no option, but to play him. Above all, I am happy with the win. If you play a team that fails to score on numerous occasions, take that opportunity and that is what we did," Kaindu said.
On Mambare, he said: "It's nothing serious at all."
Buffaloes coach Timothy Masachi, who could not fathom his boys' recklessness in front of goal, blamed his strikers for not taking their chances.
"We should have scored in the first half where we created many chances. It was unfortunate that Highlanders were a better side in the second half," Masachi said.
The match had started with Buffaloes winning all midfield battles, but their chief striker Stephen Sibanda fluffed two clear chances in the opening minutes of the match, both from close range.
The misses allowed Bosso to come out of their shell and Mambare's shot was cleared off the goal line by Themba Ndlovu, who had a good day in the office.
Action swung from side to side with Bosso having a goal disallowed for an infringement in the 42nd minute after Bheki Ncube had sliced home a Bruce Kangwa corner-kick, although television replays showed no foul was committed.
After the breather, Kaindu introduced Beaven Chikaka for Njabulo Ncube in the 51st minute and added Maphosa for Simon Munawa in the 59th minute to completely change the complexion of the midfield battle.
Maphosa fed the hard-running Bruce Kangwa on the left. Maphosa waited for the return cross which he firmly planted out of the reach of Buffaloes third choice goalkeeper Blessing Mandimutsira in the 63rd minute.
Mambare struck barely two minutes later from inside the box before Milton made life difficult for Buffaloes when he headed home with his first touch from a Chikaka cross in the 71st minute to ensure easy passage for Bosso to the semi-finals stage.
Teams Highlanders: M Diya, E Mudzingwa, B Kangwa, D Ndlovu, I Mapuranga, M Mambare, S Munawa (M Maphosa 59th min), B Ncube (M Ncube 70th min), H Madzivanyika, G Nyoni, N Ncube (B Chikaka 51st min) Buffaloes: B Mandimutsira, B Mukwena, S Nyauzima, T Ndlovu, P Chandisaita, P Matizanadzo, S Nkata (A Dzumbunu 74th min), W Sithole (M Mageja 89th min), L Katongomara (D Zimbango 76th min), P Thembani, S Sibanda.