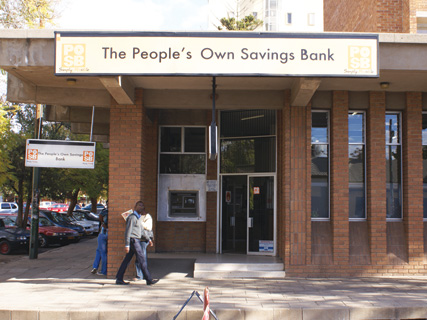 THE People's Own Savings Bank (POSB) recorded a loss of $131 000 in operating profit in the first half of the year partly due to a drop in non- interest income and a decline in revenue reserves.
Report by Own Correspondent
According to unaudited interim results released yesterday, POSB recorded a loss in the current year from a profit of $715 000 achieved in the same period last year. Profits were weighed down by a 6% plunge in non–interest income to $7,3 million down from $8,4 million registered in the same period last year.
The loss was further compounded by an increase in cost-to-income ratio which went up to 101% from 93% recorded last year.
This is against a 2% drop in revenue reserves to $6,94 million down from $7,7 million achieved in December last year as the general banking sector continues to face a myriad of challenges.
"The financial sector remains crippled with tight liquidity, high non-performing loans, limited activity on the interbank market, absence of the lender of last resort and low savings," the bank said in a statement accompanying the financial results.
POSB, however, recorded a 3% growth to 680 000 in comprehensive income while bank deposits went up by 9% to $68,9 million from $63,8 million recorded as at the end of December last year.
Total bank assets grew 10% to $88,9 million up from $80,5 million recorded in December last year.
In the period the bank upgraded its core banking system and this is expected to enhance service convenience and improve service quality to customers.
POSB in the period opened a branch in Mutoko while the opening of another outlet in Mvuma is also at an advanced stage.
Going forward, the bank said while the outlook of the financial sector remains challenging it will continue to grow its depositors base.
Twitter feedback @mudarikirig