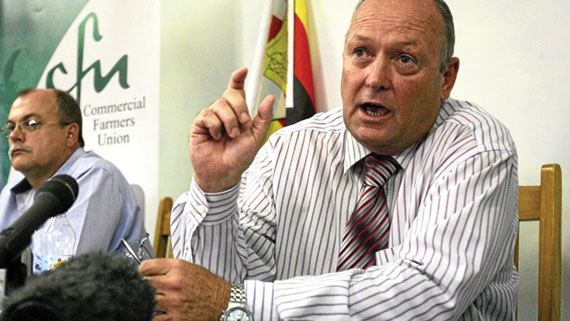 THE construction and agriculture industries are at the deep end after failing to attract any foreign direct investments (FDI) in the six months ended June, as potential suitors continue to shun the sectors citing policy inconsistencies.
Gamma Mudarikiri Own Correspondent
According to latest statistics released by the Zimbabwe Investment Authority (ZIA), there were no investments in the two sectors during the half-year period.
Commercial Farmers' Union (CFU) president Charles Taffs attributed the lack of investment in the agriculture sector to the fact that most farmers do not have collateral and as such cannot access funding.
"Most farmers don't have collateral after the chaotic land reform programme and there is no investor who can channel his money into such a sector," he said.
The government in the early 2000s, embarked on a chaotic fast-track land reform programme and acquired an estimated 11 million hectares of white-owned farmland and redistributed it on a massive scale.
Beneficiaries of the programme still do not have lease agreements to use as collateral to access funding, which has resulted in the continued decline in agriculture production.
The country needs an estimated 1,8 million tonnes of grain to meet demand. The present national yield is a little more than 300 000 tonnes per annum, as the agriculture sector continues on a downward path.
The construction sector is in a similar situation and after failing to attract investment. It is expected to miss its projected 5% growth target. Construction Industry Federation of Zimbabwe chief executive officer Annie Rukweza recently told Southern Eye Business  that the sector recorded subdued performance in the first half of the year as government projects were few.
She attributed to lack of huge capital inflows and major national development projects, which resulted in the depressed performance of the sector, as the economy continued to weaken.
The economy continues to slow down mainly because of lack of FDI due to policy inconsistences, chief among those being the indigenisation law and the uncertainty surrounding the disputed election results.
The country's industry is in the doldrums largely due to lack of investments, with financiers adopting a wait-and-see attitude due to the uncertainty surrounding the election outcome and policy misalignments.
ZIA approved investment projects worth $184 million for the half-year ending June 30 2013 compared to $247 million realised in the same period last year, as investors continue to be averse due to the country's policy inconsistency and uncertainty.
The manufacturing sector, however, received investments worth $90 million for 32 projects, followed by mining with $81,4 million for 34 projects and the services sector got $9,3 million for 12 projects. Twitter feedback @mudarikirig