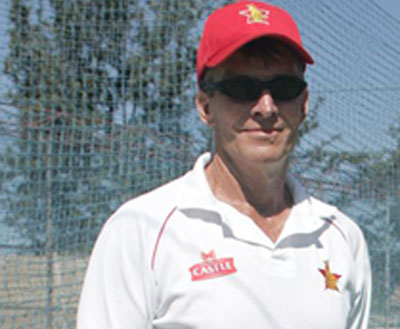 NEW Zimbabwe cricket team coach Andy Waller faces an uphill task to restore his players' confidence ahead of the upcoming home series against Pakistan and Sri Lanka, after receiving a baptism of fire on his first series in charge of the national team.
DANIEL NHAKANISO SPORTS REPORTER
The humiliating 5-0 whitewash at the hands of a weakened Indian side was not the result Waller would have hoped for after having put in nine weeks of intensive preparations prior to the start of the series.
Waller's charges were completely outclassed in all departments, as their performances seemed to deteriorate after each match during the five-match series which yielded very few positives for the side.
Prior to the start of the series, Waller had stated that he would have been happy if his charges had surprised the Indians in at least one of the matches, but in the end they never got close.
Instead the series exposed the declining standards in the national cricket squad in a space of three years as the team's performances continue to go down.
Under former coach Allan Butcher, Zimbabwe managed to beat India not once, but twice and Sri Lanka, once in his first series in charge in May 2010.
A confident Zimbabwe side went on to reach the final of the Triangular 50 overs series. Although Zimbabwe went on to lose to Sri Lanka in the final, it was an encouraging start for Butcher and the performance laid a solid foundation for the national team's return to Test cricket.
The Indian side, then featured no less than six players who were part of the current squad that outclassed Zimbabwe namely Dinesh Karthik, Virat Kohli, Rohit Sharma, Suresh Raina, Ravindra Jadeja, Amit Mishra.
Zimbabwe also had current captain Brendan Taylor, Hamilton Masakadza, Elton Chigumbura and Prosper Utseya in the side that beat India in 2010, but only Chigumbura seemed unfazed by the Indians' challenge this time around, as he finished as the national side's top scorer during the recent series. Taylor, possibly the team's best batsman, managed just 35 runs during the series including two consecutive ducks and his own poor form has exacerbated Zimbabwe's problems.
Waller, however, believed he could turn the national team's fortunes around and asked for more time. "It's not something we can turn over in two or three months," Waller. "I'm not trying to make excuses, but it's a long process. It's a confidence thing.
"The guys haven't played hard, competitive cricket for three or four months now, and I think you'll find by the end of the Sri Lanka tour, playing more of that standard of cricket, the confidence will build up and we'll start improving."