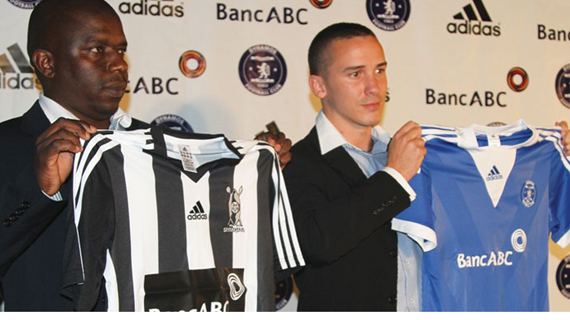 THE country's biggest football institutions, Dynamos and Highlanders, last night made history when they signed sponsorship deals with sports apparel giant Adidas at a glitzy function hosted at a Harare hotel.
By Simba Rushwaya
The two clubs, who have millions of followers across the country, are now officially in the books of Adidas, who also sponsor Chelsea of England, the Germany national team and Orlando Pirates of South Africa, among others.
It is hoped the two deals, the first of their kind at club level in modern-day Premiership, will benefit the clubs through the sale of replica jerseys at stadiums and "recommended shops". The jerseys will be sold at $50 each to the two teams' supporters. According to sources, Bosso and DeMbare will get 7% for every unit sold, meaning they stand to pocket $3,50 per jersey.
The new deals will see both clubs get, among other things, training and playing kits, travelling gear, sneakers, trainers, golf shirts and training and match balls.
Unlike in Europe where clubs cash in on sponsorship deals like these immediately after signing, the Dynamos and Highlanders transactions will chiefly depend on the movement of replica jerseys shipped in by the supplier. Adidas were not at liberty to divulge the number of replica jerseys already made.
European clubs normally generate money on signing the deals alone like in the case of English Premiership giants Arsenal, who will pocket £30 million per year for five years after their marriage with Puma. Liverpool signed a £25 million-a-year contract with Warrior while English champions Manchester United's 15-year contract with Nike amounts to £287 million.
But Liverpool, Arsenal and Manchester United are huge institutions, thousands of miles ahead of Dynamos and Highlanders, with appeal in almost every continent and it would be asking for too much if someone were to expect the same figures for local teams.
Bosso and DeMbare's appeal is confined to Zimbabwe with a relatively small attraction in the region. Both clubs last night paid tribute to Adidas for the partnership which was facilitated by their sponsors BancABC.
Dynamos chairman Keni Mubaiwa said: "I hope this will help Dynamos to grow as a brand and as an institution — this is just the beginning of big things to come."
Echoing the same sentiments at the same function, Bosso chairman Peter Dube said the sponsorship deal would ease the financial burden on Bulawayo's most popular club.
"This sponsorship has made Highlanders a part of history and partnering with Adidas will allow us to be among the best in world football," said Dube.
BancABC managing director Hashmon Matemera lauded the deal. "The Adidas deal will greatly contribute to the continued efforts of Dynamos and Highlanders to perform at the highest level. BancABC is committed to investing in football sponsorship by supporting clubs and the Sup8r tournament as a way of connecting with our communities," he said.
Ten fervent fans from the football giants graced the event yesterday