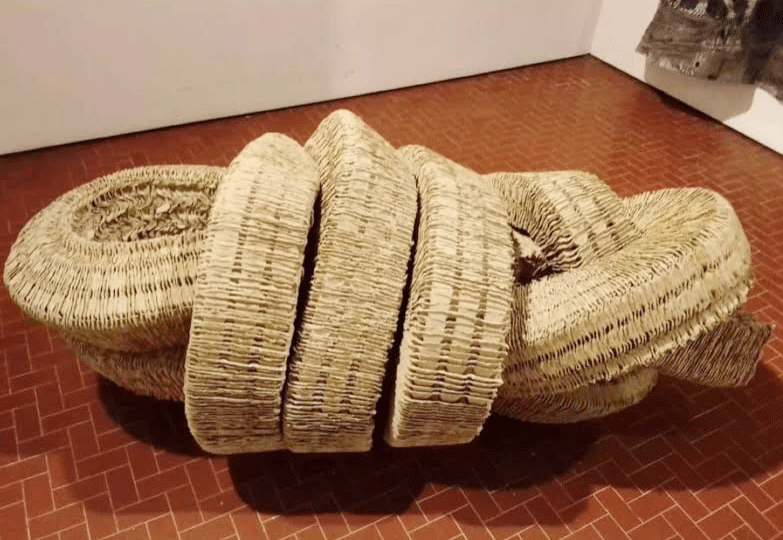 BY SHARON SIBINDI The Zimbabwe Pavillon has been reviewed as one of the top 10 pavilions by International Press Acula and artsy.net  in the ongoing 59th Venice Biennale 2022.
The Pavilion is part of the mesmerising pavilions across the Arsenale, the Giardini, and off-site locations at the Biennale this year.
Zimbabwean Pavilion exhibited I Did Not Leave a Sign, which is incredibly tactile. It was curated by Fadzai Veronica Muchemwa and features works by Wallen Mapondera, Ronald Muchatuta, Kresiah Mukwazhi, and Terrence Musekiwa.
In an interview, commissioner of the Pavillon and  executive director of the National Gallery of Zimbabwe, Raphael Chikukwa said they were excited at being acknowledged by the International Press Acula and artsy.net.
"Well, I would like to pay tribute to the Zimbabwe Pavilion artists — curator Fadzai Veronica Muchemwa and the National Gallery of Zimbabwe team, and minister Dr Kirsty Coventry and the entire ministry for their continued support for the Zimbabwe Pavilion project" Chikukwa said.
"It's a good fit to the national agenda of re-engagement and there is no better project than cultural diplomacy.
"We are excited at being acknowledged by the International Press Acula and artsy.net this means a lot to our arts in zimbabwe and in Africa at large."
He said it is their hope that this will increase the traffic of international gallerists to Zimbabwe and the artists can continue to shine on the global art stage.
"Venice Biennale is a visual arts Olympic that every serious artists can dream to show and Zimbabwean artists continue to shine at this global stage," said Chikukwa.
"Having Portia Zvavahera and Kudzanai Violet Hwami on the main Venice biennale exhibition means a lot.
"These two artists we show cased them in previous Zimbabwe pavilion exhibitions in 2013 and 2019.
"Celebrating these artists as a country means a lot to our local practice.
"Artists are like athletes, some run fast and some run slow and not all artists can make it to the Olympics and let's support those that make it to Venice Biennale.
"Their archievements means a lot and it's Zimbabwe that is bigger than all of us.
"The curator who is a visual DJ, plays certain songs at a certain time and cannot play many songs at one time. A luta continua."
Related Topics