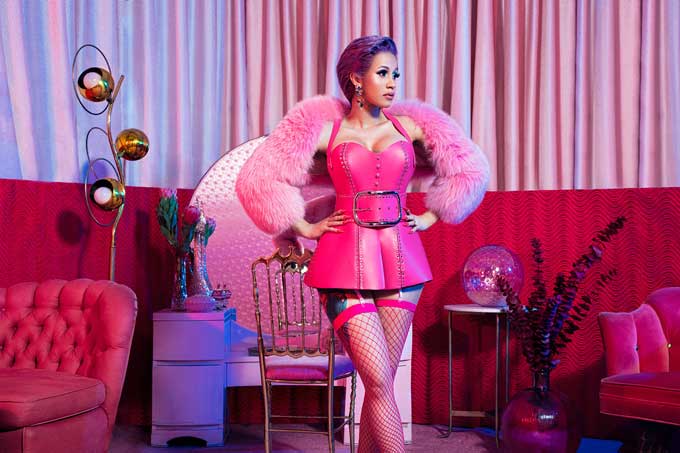 By Grant Moyo Certainly proud to brag about how she keeps on driving in gear — amply tanked, seat belts fastened while cruising past hindrances unfazed, richly possessing enough confidence to step out full-face raw with her out-and-out high-pitched bleat depicting her own genteel manner to say — "I'm staying up to smash, grab and keep doing what I'm doing full throttle", Belcalis Almanzar, an American rapper songwriter known publicly as Cardi B, lives to tell another classic tale after freshly delivering 'Hot Ish', her first solo single this year.
Following the recent success of her Recording Industry Association of America (RIAA) — (2x) platinum-certified chart topping smash hit 'Up' — which peaked at position 1 on Billboard's Hot 100 upon its February 2021 release, this tune 'Hot Ish' — over much dewy behind the ears — has a lot of catching up to do. While 'Up' is the rapper's fifth chart-topping solo single, extending her Guinness World Record as the female rapper with the most number 1 songs in Hot 100 history, chances are 'Hot Ish' can conjure up Cardi B's bid to snap a major trend and roar in streams as well as on charts within and beyond the United States. Having made history as the first female rap artist to earn two number 1 singles unaccompanied by any other artist on Billboard's Hot 100 — walking the same path all over again will certainly perpetuate every eventuality for 'Hot Ish' to become her sixth successive chart-topping single.
'Up' — a 2022 Grammy Award nominee for Best Rap Performance, affirming Cardi B as the female rapper with the most ever nominations in that category, is enough motivation for the New York City rapper to secure another thawing epic blockbuster. Enlivened after 'Up' proved to be the top track by a female rap artist on Billboard's Hot Rap Songs and Hot R&B/Hip-Hop Songs charts last year — she first announced the arrival of 'Hot Ish' with an epic teaser during the 2022 edition of the BET Awards ceremony which took place a fortnight ago. Set to be a song of the summer, on this spic-and-span record, the straight-from-the-shoulder hip hop knocker joined forces with fellow rappers — Lil Durk and Ye, known affectionately as Kanye West.
Fashioning her name in the hip hop circles as a raw and aggressive rapper in the style of rap doyens Lil' Kim and Foxy Brown, prior to delivering her first studio album called 'Invasion of Privacy' in 2018, Cardi B's commercial debut single titled 'Bodak Yellow', mounted to number 1 on the US Billboard Hot 100 chart. The attainment that she got with the latter musical composition — which she dropped while signed under Atlantic Records — made her the second-ever female rapper to do so with a solo output. Firmly tailing the footsteps of legendary rapper singer-songwriter Lauryn Hill who stretched out loud her dominance in 1998 with her record titled 'Doo Wop (That Thing)'.
'Bodak Yellow' locked down the number 1 spot for three consecutive weeks, tying with American pop singer-songwriter Taylor Swift's sound 'Look What You Made Me Do' — as the longest running female to top the US Billboard Hot 100 chart in 2017. Manifesting into greatness, 'Bodak Yellow' was finally certified quintuple platinum by the RIAA. Establishing herself on a skintight rein, Cardi B was featured on American singer-songwriter, record producer, and music video director Bruno Mars' remix version of his anthem called 'Finesse'. Before long she became the first woman to have five top 10 singles simultaneously on the Billboard Hot R&B/Hip-Hop chart. Now set for glory in the adjacent phase of her musical career, Cardi B's brand-new piece of auditory sensation 'Hot Ish', sees three of the most coercive forces in ultramodern rap team up for a hard-hitting tune that is sure to set summer kickbacks ablaze.
Having put so much into music to get this far and wanting to stay soaked up in the rap culture as long as it lasts — lyrical genius Ye (Kanye Omari West) takes charge of his venomous voice and alters creative facile flows to deliver power, ferocity and intensity. As one of the world's best-selling music artists, with over 160 million records sold, 24 Grammy Awards, a Michael Jackson Video Vanguard Award, and continued commercial success of his tenth album titled 'Donda' (2021) which was followed by the release of its sequel 'Donda 2' this year — on the fresh-cut feature ('Hot Ish') Ye serves the best for last with his brawny impinging smooth effortless tone.
What comes out of the mouth of Lil Durk, born Durk Derrick Banks is phenomenal — a perfect sentiment for his verse amalgamated with punch lines.
While singles such as '3 Headed Goat', a feature on Drake's 2020 single 'Laugh Now Cry Later', LPs (long plays) that include The Voice (2020), a joint album with Lil Baby titled 'The Voice of the Heroes' (2021), and his latest offering '7220' (2022) — shattered records — 'Hot Ish' is most likely than not going to earn Lil Durk commercial resurgence. Leaning in the right area — astoundingly putting his own spin on the musical composition with bars pitch perfect — the hip hop knocker slays the heavier-than-air striking base that amplifies the get-up-and-go ambiance.
Going all in, trusting her instincts on the pinnacle of a selfsame hairsplitting and limpid feat, Cardi B finds herself more conversational in the rhythm of the hook and jaw dropping sound that maintains the grit of hip hop. Honest and open with her heart, the rapper songwriter who cites American pop singer-songwriters and actresses Madonna and Lady Gaga as two of her favourite artists — lets audiences get a glimpse of her personality, completely remaining so much connected to her spirit.
'Hot Ish' was produced by American record producer, music programmer and songwriter Tay Keith who is heavily informed on melodies. The Grammy Award nominee's production credits enlists — Drake's 'Nonstop', Beyoncé Knowles-Carter's 'Before I Let Go', Eminem's 'Not Alike', Travis Scott's 'Sicko Mode', Miley Cyrus' 'Mother's Daughter', BlocBoy JB's 'Look Alive', and DJ Khaled's 'Wish Wish', to mention but a few. Keith's mythical touch on the 'Hot Ish' beat makes room for off-balance textures.
Ushering in her hallmark oftentimes linked to a lethal scope of raps that depicts her dedication to her craft, it will take a lot for hip hop heads in the thick of the rap game to wrench the crown from Cardi B's grasp. Tasting victory, this year has seen Cardi B teaming up with American rhythm and blues singers Summer Walker and SZA for the worldwide hit single 'No Love' (Extended Version). Marking her second collaboration with Walker following a guest appearance on the singer's chart-topping album called 'Still Over It'. Turning heads in a pretty cut figure endowing her majestic beauty only overshadowed by the sparkles in her gift, more recently Cardi B joined American rapper and songwriter Kay Flock for 'Shake It' alongside New York drill rapper Dougie B and musical artist Bory300. Hailed by Billboard as 'a hip-hop banger', 'Shake It' was named as one of their '50 Best Songs of 2022', so far.
Bossing, as 'Hot Ish' remains momentously infectious in such a positive way, 'Up' continues flying skyward — currently boasting over 230 million individual views via YouTube— having earned such nominations as the BET Awards' Video of the Year, BET Hip Hop Awards' Best Hip Hop Video, Peoples Choices Awards' Music Video of 2021, and the American Music Awards' Video of the Year. Caught up in her hot pursuit of ageless supremacy, the critical question is — "Just how loud is Cardi B's up-to-the-minute banger?"
Grant Moyo is a prolific writer, innovative media personality, entrepreneur and a creative artist who is passionate about using his creative mind for the betterment of society.
 Follow him on Twitter: @TotemGrant
Related Topics