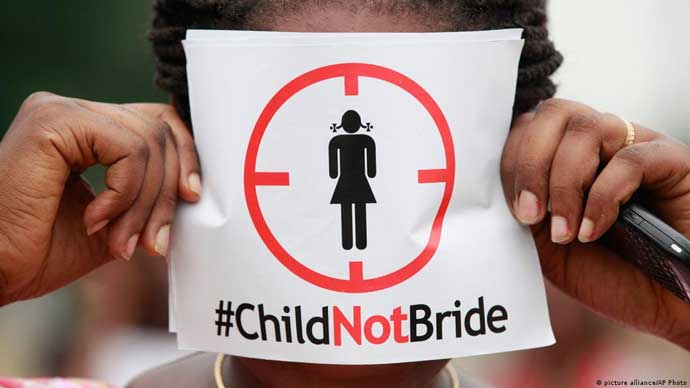 BY MELINDA KUSEMACHIBI Child marriages are a cancer that has greatly manifested itself in Zimbabwe and continue to rid society of its brighter future.
The scourge which has been driven by a number of factors among them cultural, religious and of late moral decadence prevalent among the young generation continues to rear its ugly head.
Tanaka (not real name) who hails from Gokwe in Masoro, Hwindo village under Chief Njelele turning 17 in December this year, was not spared either as she is currently a mother of two at that tender age.
Having given birth to her first born child at 12 in 2018, Tanaka was blessed with another baby last year when she was 16 though she had a miscarriage at the age of 14.
However, life has not been that rosy for the mother who dropped out of school at the age of 11 as she embarked on the tough journey of parenting.
"I always wished to become a nurse but my dream got shattered as I was impregnated at the age of 11 by a cattle herder in December 2017 who stayed at our home and by then I was doing Grade Six," Tanaka said.
"l gave birth to my first child in September 2018 at the age of 12 at Sanyati Mission Hospital.
"I did not know that l was pregnant by that time. It came to light when my mother asked me why I was not asking for cloth to use for my monthly periods. That is when some village members came to my mother telling her that l was pregnant. For sure l was in my fourth month.
"Currently I am a mother of two. I had my second daughter when l was 16. Along the way, l gave birth to a premature child who died during birth when l was 14 at Gokwe Centre.
"I got married to my 30-year-old husband when l was 14 after l realised that l was pregnant and eloped.
"The father of my first born baby was a cattle herder at our home.
"He did not rape me because l was in love with him. But after he heard about my pregnancy, he promised to marry me, only to later on run away."
Parents look like they continue propagating child marriages, protecting their children from being shamed by the community by trying to terminate early pregnancies or sending the girl (victim) to her in-laws.
"After my parents learnt about my pregnancy, they tried to terminate it using traditional medicines. It did not work because l was in my second trimester," Tanaka said.
"We even went to Population Service at Gokwe Centre, but they said that it was not going to work since l was in my second trimester.
"My parents did not even try to make a police report or discipline me.
"My mother took me to her elder sister who lives in Sanyati, that is where l gave birth to my child."
Tanaka said life had not been easy for her after becoming a mother at such a young age.
"It is not easy to become a mother at a young age; we rely on growing cotton as we do not have enough money to raise our kids," she said.
Tanaka's first born daughter lives with her parents after they took her as their own while she lives with her husband and the other kid.
With Zimbabwe Constitution Section 81 (1) declaring that all persons under the age of 18 must be protected from sexual exploitation, this is not what happened to Tanaka as she got no form of protection from the supreme law of the land.
Despite the laws of the land outlawing such wicked practices of early child marriages, they have become the order of the day with most victims living with perpetrators.
Zimbabwe has committed to end child, early and forced marriages by 2030. It also ratified the Convention on the Rights of Child in 1990, which sets a minimum age of marriage of 18.
However, despite this, girls in Zimbabwe are not safe from the practice.
Over a third of girls (34%) are married before the age of 18 in the country and 5% are married before their 15th birthday.
Zimbabwe Gender Commission (ZGC) chairperson Margaret Sangarwe said that the laws in Zimbabwe are not doing enough to eliminate child marriages.
"As the situation stands in Zimbabwe, the laws have proved not to be enough to curb child marriages especially considering the inconsistences that still exist between several pieces of legislations and decisions of the courts," Sangarwe said.
"For instance, section 61 of the Criminal Law (Codification and Reform) Act still defines a "young person" as a boy or girl under the age of sixteen years.
"While the new Marriage Act has set the age for marriage at 18 and the Constitution states that an adult is a person who is 18 years and above sections 70, 76, 83 and 86 of the Criminal Law (Codification and Reform) Act are still not consistent with the Constitution.
"Further, the Constitutional Court which declared provisions of the Criminal Code unconstitutional only allowed amendments to the Criminal Code within one year and not with immediate effect.
"It simply means for the next one year abuse of girls will go on and on. The same court on corporal punishment made immediate changes and most recently the same court has put in place a minimum mandatory sentence for those who steal electric copper cables whilst there is no minimum mandatory sentence for rape.
"In simple terms when it comes to the protection of women and girls in relation to sexual abuse and exploitation as well as child marriages it appears that the laws and the courts are hesitant to make drastic measures that guarantee protection of young girls."
Sangarwe said from the public hearings they conducted on child marriages the communities are now aware of the rights of girl child.
"From the recent public hearings on child marriage we conducted across the country it appears that communities are now more aware of the rights of the girl child and are enthusiastic in reporting and in most cases they act as whistleblowers," she said .
Sangarwe also said that due to poverty, child marriages had become a business in families as they see it as a way of surviving.
"However, despite the enthusiasm to report by communities, we have also noted the complexity of circumstances around child marriage due to poverty child marriages have become a lucrative business for families in some rural areas and even some families in urban areas," she said.
"Decay in moral fibre, things have simply changed and now it seems as if Ubuntu the idea of raising a child as a community is no longer a priority."
On what can be done to reduce cases of child marriages in communities ZGC noted that there is need of giving enforcement powers to traditional leaders on summoning the perpetrators.
A villager in Gokwe area Cynthia Moyo said that cases of early child marriages have been on the rise lately.
"Cases of early child marriages in our community have been high; girls between the ages of 12 and 15 are the ones who are mostly rushing to get married," she said.
"Once their chests become broadened, they think they are adults and in our area girls left are those in Grade 5 and below the rest are mothers."
However, different organisations which stand for the rights of women and girl child indicated that the society, parents lack knowledge on the rights and laws which protect the girl child.
Echoes of a Girl Child founder Viola Chinyemba said remote areas lack awareness on the rights of children and parents continue propagating child marriages as a result of ignorance on the rights of children.
"In remote areas child marriages are rampant and people to blame are the parents as they neglect the welfare of the girl child as they are deep rooted in a patriarchal society," she said.
"In remote areas, they consider 14-year-old girls as being old enough to be married off.
"The best solution that can be employed is educational awareness and mostly they are being done in urban than remote areas.
"More awarenesses need to be done in remote areas and parents have to be educated on the rights of their children especially the girl child since they are ones who are mostly affected."
Centre for Gender and Community Development in Zimbabwe programmes manager Chidaushe Mudadi said they carried out a survey which concluded with the need for various stakeholders to join the fight against child marriages.
"We carried a survey in 2021 to find out why cases of early child marriages continue to flip up and we noticed that economic capacitation at house hold level and lack of awareness especially on the rights of children and those parents engaging in child marriages," Mudadi said.
"There is need to raise awareness and include the police when conducting those awareness and parents will be able to know that it is a crime for their children to get married before the age of 18."
Chief Murinye born Ephias Munodawafa said that people in villages do not know their rights and need to be educated.
"It is a criminal offence to marry a girl who is below 18," said Chief Murinye.
"Parents lack knowledge on rights of children that is why l decided to do some meetings with my headman and village heads so that they get a bit of knowledge of the Bill of Rights, constitution so that it may help in reducing early child marriages.
"Mostly in the communities, parents to negotiate for lobola payments and once a girl is no longer going to school, what is left for her is to get married.
"And again on their own, children are engaging in sexual activities before the age of 18 so it is difficult to end child marriages that is why l want to engage with my headmen and educate them on the rights of children."
Following the judgment by the Concourt after legislator Tendai Biti's constitutional challenge to move age of consent from 16 to 18, a huge sigh of relief is expected in communities only if the law is upheld.
The judgement is a progressive and far reaching one which shows concern for the welfare of children, young persons and offers clear guidance on the direction that reform of the law should take, the court had effectively abolished child marriages.
Related Topics