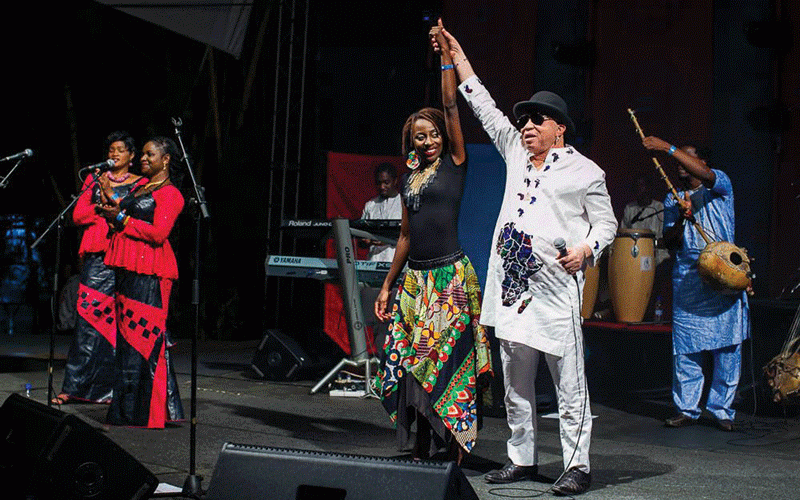 IN what marks their sun-downer after a gruelling Tuesday of hustling in the streets of Harare's central business district, two men take turns to sip a substance that reeks of potent illicit brew.
A black polo shirt, pair of blue denims and red new balance sneakers say a lot about how 39 year old Romeo Sabawu's life , unlike his friend Dennis (42) a street dweller who sits shabbily in front of him, has transformed his life in the past five years.
Beyond libations, both men share memories and, on this day, that includes their experiences at Harare International Festival of the Arts (Hifa), which once used the park where they imbibe as its main venue.
For over a decade, the six-day festival that took place on dates between the last week of April and first week of May used to employ them as either car park marshals or venue assistants. But, for various reasons, mainly financial and socio-political, it has not returned since its last edition in 2018.
"I experienced a lot during Hifa days but not only that, I also learnt to plan my life better because I used to stay in the streets but after the 2018 edition I chose to use my money wisely," says Sabawu who has since moved from the streets into a house in the Epworth suburb.
Dennis tells a somewhat bittersweet story: "Working for the festival was a marvel and it kept our lives interesting although I used to drink kenge (illicit alcohol) during those days, I used to watch exciting lineups of foreign and local artistes and at the end of the six days I would be given my wage."
Both men yearn for a Hifa return. The former so he can meet new people, cash-in on tips and dance to the tunes of artistes as big as Malian legend Salif Keita who headlined mainstage in 2018 while the latter hopes for "one more chance" so he can make better decisions with his festival income.
In six days, Hifa (founded in 1999) employed over 60 street dwellers, thousands of artistes and countless providers of goods and services. Professional skills and work ethic in the creative industry were imparted in the process, making its absence a grave void artistically as well as economically.
"Those six days were art therapy for the country and everyone would be looking forward to being treated to various art," says multi-talented artiste Tinashe Muchuri who has performed poetry and theater at Hifa.
True to his sentiments, the diverse showcase of art genres including theatre, music, dance, fine art, and poetry, ignited a unique and colourful atmosphere throughout its entire duration, which etched long-lasting memories to extensive audiences.
"It was a hub of opportunities for creatives," Muchuri told the Standard Style.
According to him, the absence of adequate support from stakeholders including the government and corporates has affected the festival and ultimately the entire arts sector.
"The government mostly comes to life when organising galas and culture month events (however) something must be done in order for them to touch all arts sectors for the industry to flourish. Funds should be put aside for art therapy through supporting festivals from district level," said Muchuri adding that "the industry is tired of handouts from other nations."
In 2021, Hifa executive director Maria Wilson opened up about how financial constraints had hamstrung the festival.
"Hifa's greatest block is always financial. Therefore, in order to ascertain whether the festival can happen, I need some guarantees from Hifa's major financial backers, which is the Zimbabwe corporate community," Wilson told a local weekly then.
"In this time of terribly confusing economics, the corporate community are unsure whether they can back Hifa to levels that Hifa needs to put an event that can have the label 'Hifa'," she added.
Hifa mainly depends on funding from private sources, including local businesses and multinational corporations, with supplementary funding coming from donors and embassy missions in Harare. Additional revenue sources include fees collected from ticket sales from the different shows run during Hifa week.
While the Covid-19 pandemic can be faulted for affecting successful hosting in 2020 and 2021, evidence shows that Hifa's problems extend further before the pandemic as it failed to take off in 2019. It has also failed to happen this year despite removal of strict health guidelines hindering the gathering of crowds.
"The absence of Hifa is a sign of an arts industry in distress," says Plot Mhako, a renowned arts promoter.
"If a huge, well subscribed festival like Hifa is failing to host due to financial and other challenges it confirms that artists and creatives institutions in Zimbabwe are going through a tough time."
Adding salt to the wound is the government's apparent disinterest in supporting the event, a move that has been viewed as political given the event's liberal stance.
"I feel that the government should have intervened to help fund and support a festival like Hifa," Mhako said.
"Hifa was one of the iconic annual events in the country just like Sanganai and Trade Fair. It needed all the support. Its impact was great for the country."
Meanwhile, as Sabawu and Dennis contest for a chance to tell this reporter about their experiences, Taurai Marufu –another street dweller- joins in.
"Hifa was good especially for those who stay in the streets, we knew that this is where we used to work and we would involve every one of us," he says.
He vividly recalls the 2004 edition that ran under the theme "heartbeat of the city", which he says presented a real pulse of the streets they call home.
"We need it back because we did not only benefit in terms of money but culturally as we learned what happens in other countries that we never used to see in Zimbabwe," Marufu said.
There are those who started Hifa but as a country and the government especially should make sure that such programmes do not die and this is not to say they should interfere with the organisation but they should promote it (financially)."
Related Topics