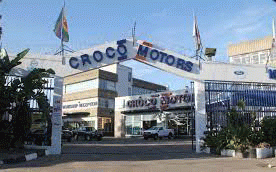 Zimbabwe's leading automotive company Croco Motors continues to play a leading role in empowering youths after recently participating in this year's edition of the Career Expo-Market Linkage Workshop held in Chitungwiza.
Organised by Junior Achievement Zimbabwe (JAZ) in partnership with SOS Children's Village, the outreach initiative was aimed at educating and informing young adults, both in and out of school, on employability skills before entering the global working economy.
About 150 young people attended this year's event at Speciss College, Chitungwiza while Croco Motors was one of the five companies that participated.
The young audience received comprehensive advice and guidance on their various prospective disciplines, as well as a summary of what it takes to be successful in the automotive industry.
The participants were allowed to ask pressing questions from necessary qualifications to equal employment opportunities for females.
Croco Motors highlighted to the participants the requisite skills and attributes one needs in order to succeed in the cut-throat working world and the automotive industry, in particular.
The company's sales manager Jackie Sibanda highlighted to the youths how passion and ambition are vital in being successful.
"The people who are crazy enough to think they can change the world are the ones who do," Sibanda said.
She told the youths on numerous opportunities that exist for growth within her organisation and the industry as a whole.
Croco Motors is an equal opportunity employer, with recruitments based on merit, irrespective of gender, race, religion or creed, social status or physical disabilities.
The keynote speakers included Chancellor Majoka from the Ministry of Youth, Sports and Recreation and Zimbabwe Youth Council Harare provincial manager Memory Nyathi.
JAZ is an organisation which empowers the youth in entrepreneurship development.
The organisation has improved employment and self-employment status for in and out of school young people.
Mugugunyeki Moses
Related Topics