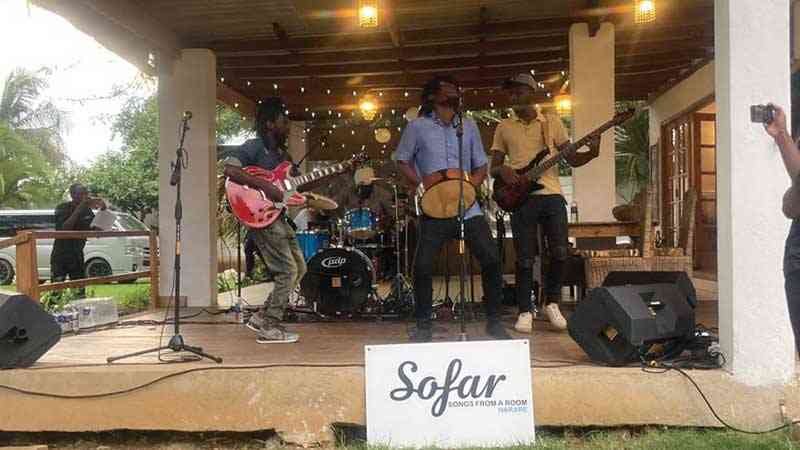 SONGS From A Room (SofarSounds), a music events start-up company responsible for various small performances, made its debut in Zimbabwe recently in a concert that saw some of the country's rising independent artistes, providing music enthusiasts in Harare with an intimate afternoon of live music performances.
Over 10 years ago, a home concert in London was the beginning of what is today a global network for musicians and fans. SofarSounds is a global community of music curators who are located in over 450 cities across the world.
The Harare chapter is represented by multi-faceted creative Khumbulani Muleya.
The unique model is about putting together community-based shows in out-of-the-ordinary venues. It is known for rethinking the live event experience by enhancing the interaction between attendees and artists.
The show began with a collection of songs by the Glenview-based Tru Bantu Tribe, who describe their music as Afro Jazz in Mbira.
The songs included Mbirimo, Dzimwe nguva, and Huyayi mununure. Lead vocalist and Mbira player Whatmore Muchuwe, bassist Takudzwa Mhinduand drummer Nigel Madzinga make up the group. The band has collaborated with renowned local musician Leonard Zhakata.
Tanzania-bound Mbira musician Nasibo put up a solo act and serenaded the audience with her mbira instrument and powerful vocal range. The artiste has been invited to perform at the Sauti za Busara music festival in February of next year. The musician previously shared the same space with legendary Senegalese singer Youssou N'Dour in a multi-national musical collaboration in Brussels.
Gwevedzi's smooth easy listening and melodic lines brought down the curtain in style as the Afro-acoustic group played some infectious songs such as Ndiringe and Ndinouya taken from their album Nhungo. The four-piece band in October performed at the Stanbic Bank Jacaranda Music Festival alongside Bongo Maffin, Zakes Bantwini and African Storm, among other acts.
According to organisers of the event, the idea is to spread the Sofar model across the country as there are many musicians who are looking for a way to build their local and global audience, as well as fans seeking a genuine connection with music in an intimate environment that has less disruptions normally associated with music shows.
Related Topics