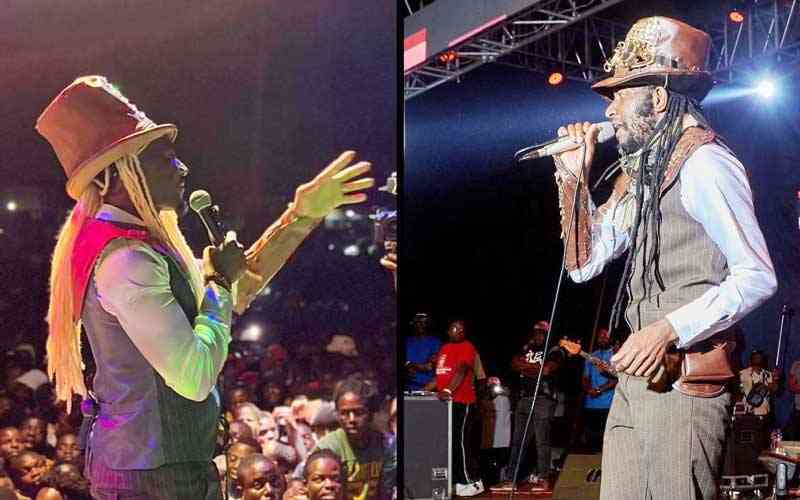 Controversial preacher Passion Java has once again lined himself to up compete against dancehall chanter Winky D after he appeared at the recent launch of his album dressed in a similar but rather comical outfit that Winky D wore at the Castle Lager Braai festival.
Winky D's outfit sent tongues wagging with people debating what message the dancehall king was sending.
Java, who is not new to emulating Winky D, with his sidekick DJ Towers, went on to dress in similar fashion in Mbare.
The self-styled prophet took his obsession with Winky D a step further by hiring designer Jay Tee, the same fashion designer who dresses Winky D to make the exact outfit he had made for the Zimdancehall chanter just a fortnight ago.
Winky D wore a steampunk; a subgenre of science fantasy or science fiction that uses aesthetic design and technology inspired by 19th-century steam-powered machinery.
In fashion, steampunk is a design style inspired by Victorian-era industrialism. It's embedded with themes and topics such as racism, classism and slavery.
Winky D has always sent a message through his music or dressing denouncing classism and social injustice in the country filled with gross injustice, massive corruption and looting and a high rate of inflation and unemployment.
Winky D first wore the steampunk in the musical video for Happy Again, which highlights how class and race came between his love relationships with the King's princess.
Ironically, Java used that steampunk at an event meant to praise and drum up support for Mnangagwa. The move was likely to annoy Winky D and his followers as well as to peeve at what Winky D stands for.
Java used the same riggings used by Winky D to mirror classism and social injustice to stage a rally, cloaked as a music album launch to hundreds of people living on bare minimum in the over populated and drug infested high density suburb of Mbare.
Java has on record admitted that he admires Winky D and sought to work with him at some time, but the dreadlocked chanter turned down Java's US$35k offer for a one-year project.
"His admiration of Winky D is evident in his skits where he calls himself 'the gaffa prophet', a term created and popularised by Winky D who calls his legion of fans 'Magaffa'," said one arts critic.
Before the admiration of the steampunk, Java at one time with his entourage are seen in videos clad in a red flight suit resembling popular television series Money Heist — characters.
Ironically, Winky D was the first artist in Zimbabwe to wear the costume last year while performing at a show organised by Passion Java dubbed Gara Mumba.
That is the only time the Ninja President and his admirer have worked together.
Besides sharing the same music producer Oskid, the two have shared the same fashion designer — Jay Tee — whose hands have been in contact with Winky D and Passion Java during dress fittings.
Related Topics