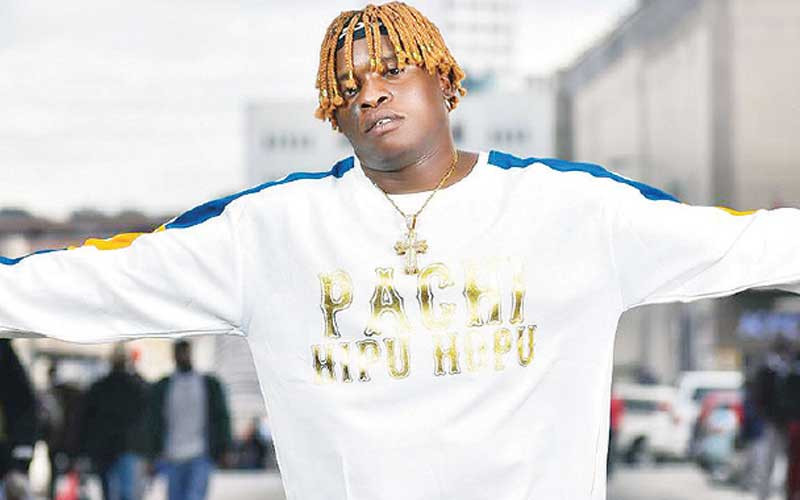 CONTROVERSIAL and award winning rapper Ti-Gonzi has declared himself king of hip-hop and vowed that no one can dethrone him.
The NAMA award winning rapper said this following the release of a music video for Kepele Juve which features Anita Jaxson.
The video was shot in Bulawayo by Afri Art studios.
Ti-Gionzi's assertion comes as a response to Holy Ten who claimed to be the father (musically) of hip-hop and everyone answers to him.
"Ti-Gonzi is the King of Zimhip-hop and he will not let the young cats erase the history of Zimhip-hop," he said.
"Zimhip-hop legends will want to be remembered and read about, so no new guys will come and make it look like they created Zimhip-hop.
"Hence none of them should call themselves the father of Zimhip-hop."
Quizzed how he feels about the influx of new artists and new sounds, the hit maker said:
"I love it because that's the evolution of Zimhip-hop. We worked hard for it to be an acceptable genre in Zimbabwe and these young guys are lucky to be here and we accept them.
"As for the new sounds like drill, I can say drill is a trend and hip-hop will be there forever," he said.
The tiff between the two artists started early this year when Holy Ten called Ti-Gonzi a "cry baby" who can't compose good music anymore.
"Top prizes and awards are for the genius, not for the lazy guys," he said.
"Ti-Gonzi must not be a cry baby but should simply work hard if he wants to reclaim his former status.
"He is always crying foul instead of doing a self-check to see where he is getting it all wrong.
"He needs to do more if he wants to be included on the music genius list."
Holy Ten said this after Ti-Gonzi was not included in the list of Zim hip-hop awards nominees.
In his response Ti-Gonzi described Holy Ten as an amateur and boastful rapper.
"I will prove that I am better than these amateur rappers that are boastful for nothing. It is unfortunate that this year's (2021) awards were manipulated in favour of the newbie," responded Ti-Gonzi.
Related Topics