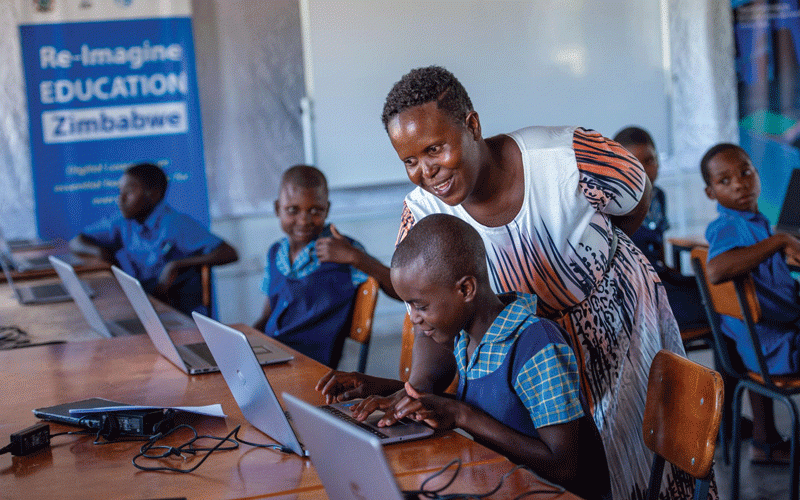 Making sure that teachers know how to use technology is as much an investment in student learning as it is providing the education technology (ed tech) itself.
Despite the government of Zimbabwe's remarkable attempts to bridge the digital divide between rural and urban schools, some teachers in remote areas still require training on how to properly use digital tools in the classroom.
The government's technological inclusion bracket continues to grow, with the latest project affecting schools across the country following a laptop donation.
The government is using the Universal Service Fund (USF) to support the provision of digital services across the country, particularly in rural areas, through the Postal and Telecommunications Regulatory Authority of Zimbabwe (Potraz).
Among the services provided are base stations to enable digital connectivity across the country and school computer laboratories.
However, it has come to my attention that some teachers need basic training on how to use new technologies during lessons.
The authorities must refrain from dumping electronic gadgets in schools without giving teachers enough knowledge on how to utilise the gadgets for e-learning.
Some even struggle to operate their smartphones.
Last week I was in Chimanimani district at a primary school where I watched a teacher struggling to handle a query from a student, who had mistakenly put a laptop on flight mode and couldn't connect to the internet.
How best can the government capacitate teachers with skills to use available technology for lessons?
The use of technology provides various teaching aids and tools that can help teachers deliver content in a more interactive and engaging way, which can improve the quality of teaching and learning.
But firstly, are teachers exposed to the little technology available to them?
Having new technologies and the ability to use them are two different things.
By being trained to use new technologies, rural teachers can help bridge the digital divide between urban and rural areas.
They can help ensure pupils have access to up-to-date education and become digital literate.
Embracing technology can help teachers create more engaging lessons, which can increase student participation and foster a love for learning.
It can also help deliver content in different formats and accommodating the learning styles of different students.
Technology is a vital part of many modern workplaces.
By exposing students to relevant technologies early on, teachers can help prepare them for the future workforce by providing them with technology skills and experience.
Digital skills can automate and streamline many administrative tasks for teachers, allowing them to spend more time focusing on teaching students.
Remote learning technology allows schools to continue education outside of the physical classroom, despite natural disasters, or other crises.
Teachers must be trained on digital literacy to enhance their professional performances in line with the National Development Strategy (NDS1) and global standards.
Some of the issues teachers can face relate to the technology itself.
Others relate to student or parent expectations, or whether there's enough of the right professional development to help teachers become proficient in digital technology.
Without addressing these concerns, we risk creating a generation of students that are ill-prepared for a digital future.
There is so much pressure in becoming digital experts especially in business and learning institutions.
No doubt digital technologies can enhance learning through accessing information and improving communication, as well as providing self-directed and collaborative learning opportunities.
Information communication technology (ICT) skills can also help develop capable, future-ready citizens.
So over the past decade, teachers have been expected to integrate digital technologies despite challenges they face.
Students might be "digital natives", comfortable with and immersed in technology, but they depend on teachers to learn through digital means.
The curriculum requires teachers to develop students' general ICT capabilities across all fields of study, alongside the "technologies" curriculum.
Rural teachers need to be trained to use new technologies in classrooms to help close the digital divide, increase student engagement, prepare students for the workforce, improve teaching efficiency, and teach them digital literacy skills.
*Evans Mathanda is a journalist and development practitioner who writes in his own personal capacity. For feedback email: ev[email protected] or call 0719770038 and Twitter @EvansMathanda19
Related Topics