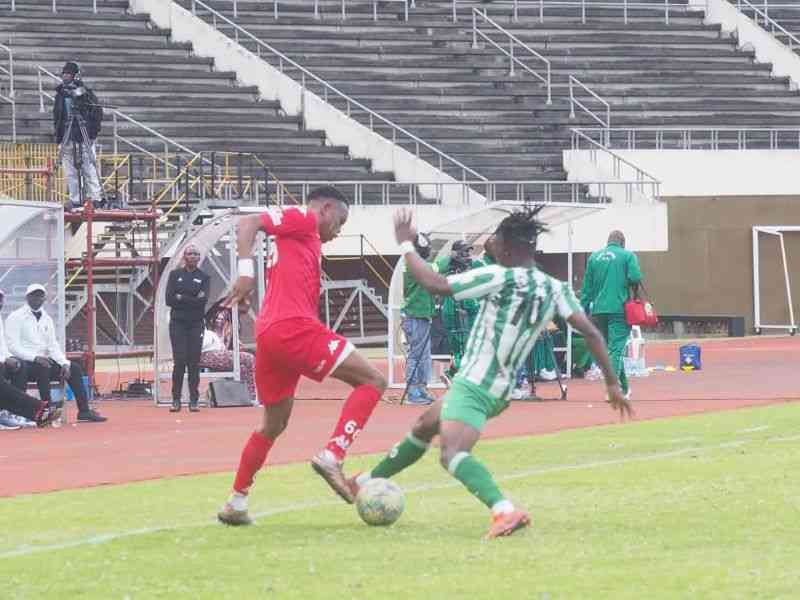 CAPS UNITED..................0
BLACK RHINOS...............0
STRUGGLING Caps United and bottom of the pile Black Rhinos shared the spoils in a drab Castle Lager Premier Soccer League match played at Bata stadium yesterday.
For Caps United this was a second draw on the trot, while Rhinos failed to maintain the winning momentum after beating Bulawayo Chiefs in their last match.
Caps United gaffer Lloyd Chitembwe conceded that his men did not do enough to get the much needed win.
"I thought it's a game we could have won easily if only we had capitalised on some very good opportunities," said Chitembwe.
"I thought we created better opportunities than they did and on that basis I am sure we just could not apply ourselves correctly in making right decisions, especially in the final third.
"There are many things, but I am sure creation of opportunities is decent, but what is missing is capitalising on the chances created and we will keep on working very hard in training and I am sure we will get the desired results."
His counterpart, Saul Chaminuka, whose team is fixated at the bottom of the table, also blamed his men's lack of precision, but remains confident that they will stay afloat.
"We feel bad because we came here and took the game to the hosts. It's not a secret that we had many scoring opportunities, but we failed to convert them," he said.
"To be honest Caps United had one scoring opportunity and we have four or five , six opportunities yet we failed to convert and it's not good.
"It's not good for us because we need the points; we desperately need them, but I hope that point we got will count one day."
Both sides spent the first 20 minutes without a single shot on target. Only Blessing Sarupinda got two cracks at goal but still failed to trouble goalie Lenon Gonese.
Black Rhinos had their first real chance of the match after 37 minutes, when Garikai Dematsika delivered a low cross that eluded Tonderai Mateuyanga.
But Lot Chiwunga and Pride Mukombwe both failed to tap the ball home after it rolled out for a goal-kick.
Nothing separated them at the half-time break, but appeared to have gathered momentum after the introduction of Ian Nyoni and Mctonomy Mahodobi for Caps and Rhinos, respectively
Mahodobi almost made instant impact on the hour mark, after outpacing Caps United left back Innocent Zambezi, and cut inside before whipping in a low cross which found no takers.
Meanwhile, Sarupinda missed a sitter after receiving a defence splitting pass from Joseph Tulani, but the former watched as his effort rolled wide.
Both sides lacked the cutting edge, as they took turns to waste chances, especially in the second half.
The hard running striker Chiwunga wasted a glorious opportunity, after weaving past centre back Lincoln Mangayira, but his final effort was tame, and was safely collected by Mateyaunga.
Teams
Caps United: T Mateyaunga, G Murwira, I Zambezi, H Chapush!, L Mangayira, B Sarupinda, J Tulani, P Bamusi(I Nyoni 55'), R Chinyengetere, W Manondo( E Manokore 66'), C Sithole( T Daka 83')
Black Rhinos: L Gonese, C Nyakope, G Saunyama, T Mchisa, D Mutimuzunze, P Mukombwe(M Mahodobi 54'), A Gahadzikwa(K Chiripawako 66'), L Chiwunga, G Dematsika, E Katema( S Chikwerengwe 84')
Related Topics