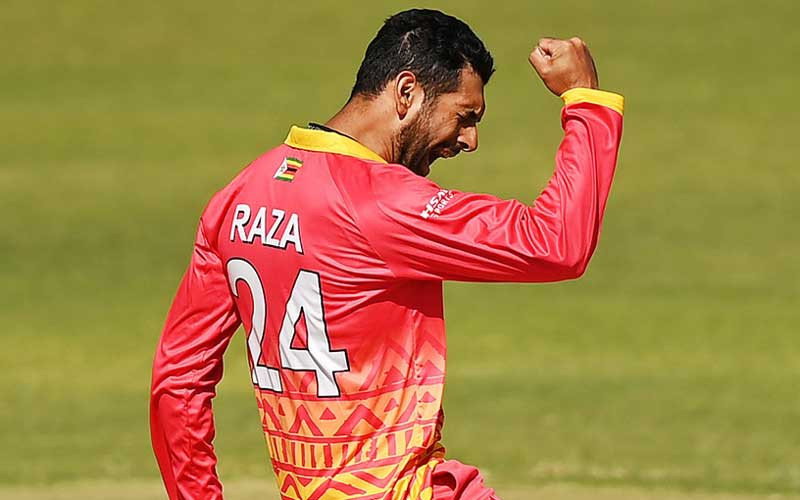 ZIMBABWE'S superstar cricketer Sikandar Raza has showered praises on coach Dave Houghton as the team continued in their rich vein of form in the International Cricket Council World Cup qualifier, which is being hosted in Harare and Bulawayo.
The Chevrons maintained a perfect record after dispatching Netherlands by six wickets with nine overs to spare in their second Group A match at Harare Sports Club on Tuesday.
Before that they had obliterated Nepal by eight wickets in their opening Group game on Sunday.
They face a sterner challenge when they take on former world champions West Indies at the same venue tomorrow, hoping to seal qualification to the Super Six stage with a win.
There is an air of optimism among the Zimbabwean fans going into the match as Zimbabwe have been in good form since Houghton took over nine months ago.
Raza opined that had Zimbabwe not thrust Houghton to the top seat they would not have even made it to the ICC T-20 World Cup.
He said Houghton has made a huge difference and brought in a winning culture.
"Dave Houghton has brought this culture and mindset in the changing room that we were missing and we were on the verge of losing that culture," Raza said.
"Lucky for all of us that we found Dave at the right time, we signed him at the right time, having not done so I don't think we would have gone to the T20 World Cup to be honest.
"So there are so many good things that I can say about Dave Houghton but he is the answer, he has brought so many things that Zimbabwe were missing , things that we already had in ourselves and he has brought it out," he said after he had smashed the fastest century by a Zimbabwean in this format against Netherlands.
Zimbabwe successfully chased a mammoth target of 316 with Craig Ervine and Sean Williams scoring half centuries at the back of the tones they had manufactured against Nepal.
Raza added that the team has benefitted from being together for a long time and that they now have more faith in their abilities.
"We have been together for a long time. He has been with us for almost a year, look we are gelling in well since he took over," he said.
"Before he came we looked for inspiration outside but now we look within ourselves and in the changing room.
"There are a lot of good cricketers in that changing room and that can inspire and win us a game," Raza said.
He said they would approach the West Indies match in the same way they have been going into the other matches.
"We are thinking about the West Indies, but we are thinking about every game we play to be honest," Raza said.
"We just want to play entertaining cricket and things will look after themselves, we have got home support, the crowd is behind us, so let's just enjoy the fact that we have had a good game and then regroup and start thinking about the West Indies.
"All we want is to be well prepared for that game and take that game head on," he added.
With a win tomorrow, Zimbabwe will give themselves a good chance of qualifying to the global showcase that will be staged in India.
Related Topics