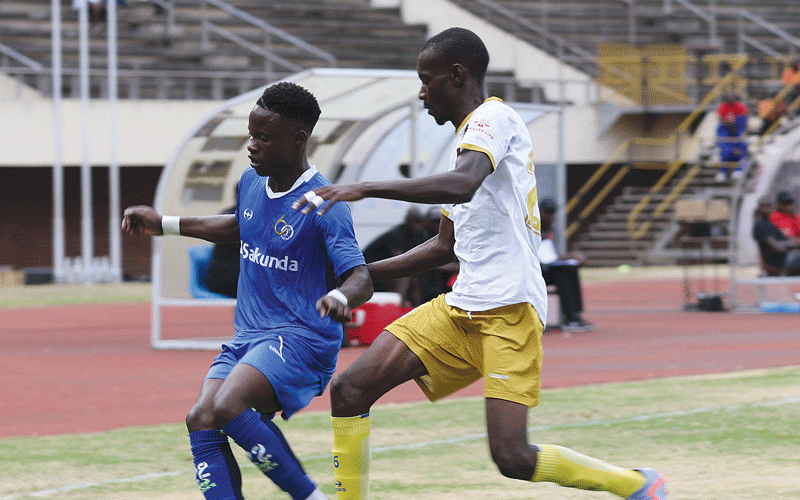 DYNAMOS . . . . . . . . . . . . . . . . .0
MANICA DIAMONDS . . . . . . . 0
DYNAMOS coach Herbert Maruwa is not worried by the team's goal drought after they were once again held to a damaging goalless draw by Manica Diamonds at the National Sports Stadium yesterday which prompted further questions over the Harare giants' title bid.
Yesterday's draw, the third time in a row, underlined the lack of potency that is threatening to shatter their hopes to end an eight-year title drought.
After a bright start to the league campaign, Maruwa's men are now languishing in eighth place after failing to win in a third straight match.
It has been so bad they have won just once in their last seven matches.
Incredibly, Dynamos, who have a game in hand, are just three points adrift of log leaders Ngezi Platinum Stars on the log table.
Despite going for 270 minutes of football without scoring a goal, Maruwa says he still retains faith in his strikers and believe they will start finding the back of the net soon.
"I'm not worried, and the good thing is we are playing well. We just need to work on the second line of our attack," Maruwa said.
Second-half substitute Jayden Barake missed a sitter for DeMbare, which probably summed up the hosts' display yesterday.
"He did well in terms of positioning himself, but somehow he missed the ball completely. We will keep on pushing them and try to improve their precision inside the box."
Barake and his fellow strikers' next chance to end their goal-scoring drought is against Highlanders in the two teams' rearranged fixture at Barbourfields Stadium on Thursday.
"This was a good game from both teams. Manica Diamonds came here to play good football, so they matched us so we are definitely going to play the same way we played today (against Highlanders). Goals will come," Maruwa assured.
Manica Diamonds coach Jairos Tapera was happy with the draw despite the result ending his side's four-match winning run.
"It's a very important draw away from home, against Dynamos. We don't play defensive football, that is why in the last four games we were scoring goals. But today Dynamos closed us down very well, especially from the wings. This point is very vital, you can win a championship with it," he said.
"In the first half, Dynamos had the upper hand and could have scored one or two, but we remained resolute. In the second half, we were a little bit better and we could have scored."
Manica Diamonds remain on fourth position with 16 points, one behind Ngezi.
Dynamos had good chances in the first half with Issa Sadiki, Eli Ilunga and Donald Mudadi all denied by Manica Diamonds goalkeeper Tedius Baye.
At the other end, Bret Amidu stung the hands of goalkeeper Taimon Mvula from a freekick, which was the only meaningful chance the visitors had in the first half.
Two minutes after the restart, Ilunga blazed over the bar and then failed to nick the ball past Baye when put through moments later.
Manica Diamonds' in-form striker Fortune Binzi, who has scored eight goals in the last four matches, had a frustrating day and was lucky to escape with just a yellow card on 60th minute when he showed his frustration by elbowing Junior Makunike in an off the ball incident.
He was, however, thwarted by Mvula seven minutes later after he was put through, the only time he had a good sight of goal. Gerald Bero blasted over the rebound from a few yards out.
Second half substitute Bakare then missed the best chance of the game, from probably the best move of the afternoon.
Some quick exchanges of passes involving Emmanuel Jalai, Tanaka Shandirwa and Sadiki saw the ball released to the latter who cleverly cut back for Bakare, but the striker completely missed the ball from a metre out.
No clear-cut chances were fashioned by the two teams afterwards as the game petered out to a disappointing draw.
Teams
Dynamos: T Mvula, E Jalai, K Madera (J Bakare, 68'), K Moyo, T Shandirwa, E Moyo, D Dzvinyai, J Zindoga, D Mudadi (E Ziocha, 68'), E Ilunga (D Mukamba, 78'), I Sadiki
Manica Diamonds: T Baye, L Masibera, F Banda, K Gwao, T Mavhunga, L Chakoroma, R Kawondera (P Manhanga, 65'), B Amidu, F Binzi, T Chamboko (B Chikwenya, 84'), G Bero
Related Topics