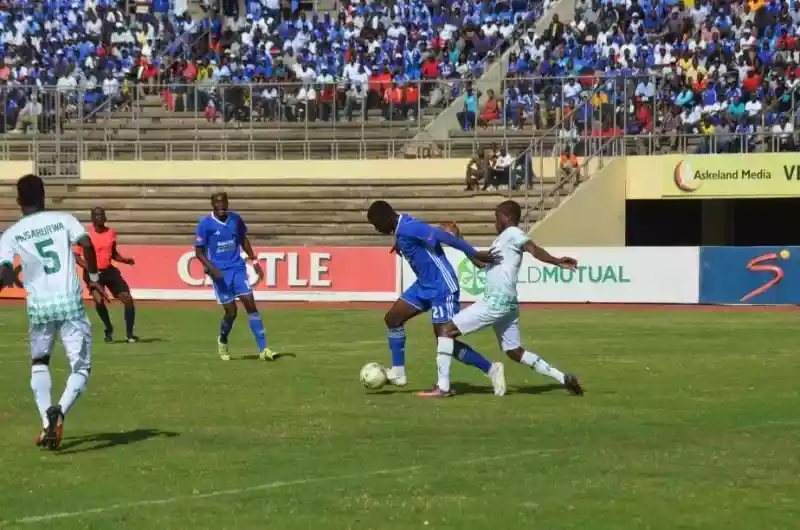 THAT Caps United lost thousands of dollars in revenue from their Harare Derby against Dynamos exposes the huge loopholes that exist at the gates of entry at our football venues.
The Green Machine declared that only 18 500 fans paid to watch their game against DeMbare although estimates point to between 25 000 to 30 000 game-watching supporters.
Those who were there would testify that the national stadium was almost full and that the spectators who were in attendance were enough to fill a stadium like Rufaro.
This means Makepekepe lost $30 000 or more, enough to pay their players for wins in two or so matches of their PSL title campaign.
The Green Machine were quick to point out that the huge loss was caused by the involvement of security marshals, popularly known as bouncers, who imposed themselves at the gates, just as they do at musical shows.
This explanation does not hold water considering the set-up at the National Sports Stadium and the security system that should be in place.
It does not make sense in the view that Caps United as a big club has its own security system in addition to the police and a private security company that takes control of mayhem at the gates.
More importantly is that these bouncers and their syndicates could not just have come from nowhere to impose themselves at the gates unless they had a connection with Caps United in one way or the other.
From the look of things, Caps United know who exactly these bouncers and their syndicates are by name, but why have they not reported them to the police?
The understanding is that at the NSS the entry points are controlled by the cashier who allows one paying fan after the other through the revolving gates.
How then did close to, if not more than the huge figure of 10 000 bypass this system when there should also have been police details to monitor the situation at hand?
How did these syndicates manage to create other entry points when we all know that football fans have to pass through the cashier to pay to enter the match venue?
If this is true, where then were the police when all this was happening and where were the Caps United officials responsible for supervising the gates unless some of them were involved in the background goings-on?
All these questions beg for answers in addition to whether these so-called bouncers have become more powerful than the police.
If the police cannot deal with such situations, why then should clubs pay them all that money and for doing what?
Why is it that such things do not happen at FC Platinum and Highlanders who consistently draw large crowds whenever at home irrespective of whom they are playing?
Surely, the explanation from the Caps United family on what exactly happened during the Harare derby does not make sense and brings suspicions of a rat smelling somewhere.
Security marshals or bouncers and their syndicates cannot just drop from the sky and take control of the gate entry points and for that matter at the National Sports Stadium unless they are armed with AK rifles.
What happened deprived the PSL, Zifa, and the Sports and Recreation Commission, of a bigger share from the gate proceeds and needs to be thoroughly investigated before it becomes a habit.
Surely, we might be forced to believe the Caps United story but deep inside suspicion will always be at play in our minds.
It would be dishonest to ignore the suspicion that one or two in the hierarchy at Caps United or Caps United itself were involved in this whole gate-takings episode.
It is hard to believe that surely two or so bouncers could hijack a big show like the Harare derby right in front of the police and for that matter, at the National Sports Stadium.
For your views, comments, and suggestions [email protected] or WhatsApp on 0773 266 779.
Related Topics