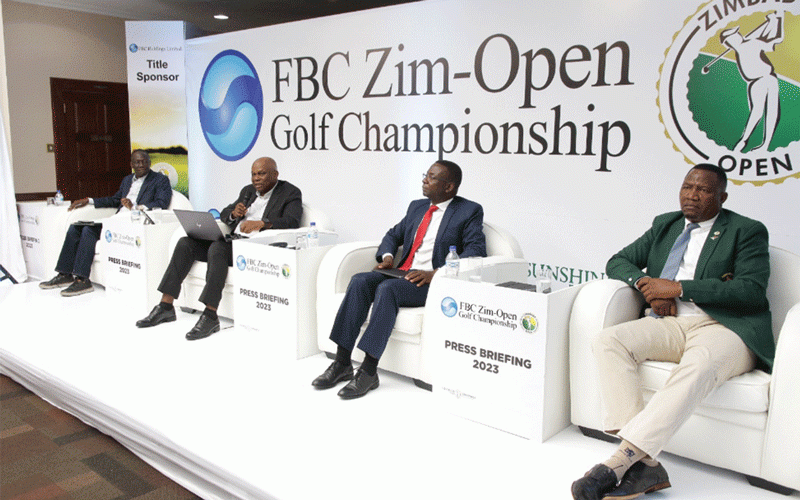 SPONSORS have raised the stakes for this year's FBC Zim Open Presented by FBC Holdings in association with Borne Marché with a lucrative prize purse of R2,2 million ahead of the flagship golf tournament which will be played at Royal Harare Golf Club next month.
The Zimbabwe Open is one of the leading events on the Sunshine Tour, which is the leading men's professional golf tour in Africa.
This year's edition will be played from May 4 to 7.
The preceding pre-qualifier for non-exempt players and traditional pro-am events are set to be played at the same venue from April 31 to May 3.
As the tee off date for edges closer, FBC Holdings Group has reaffirmed its commitment to growing the sport in the country.
The financial services group, which initially took over as the title sponsors of the prestigious golf tournament last year, is joined by the new associate sponsors, premium retail outlet Bon Marché.
FBC Holdings deputy group chief executive, Trynos Kufazvinei said of their continued partnership to the nation's flagship golf event: "One of our many passions as a group is to drive the development of golf in Zimbabwe. As such we are here to affirm the group's commitment towards supporting the development of golf as an inclusive sport in Zimbabwe and the African continent at large. I'm pleased to announce that FBC Holdings as the title sponsors has availed a total of US$150 000 towards the 2023 Zimbabwe Open Golf Tournament."
Zimbabwe Open Committee chairman Livingstone Gwata said he is grateful for the support they have continually received from their sponsors.
"We are most grateful to FBC Holdings Limited for taking on the title sponsorship for the second year in a row. FBC Holdings have the distinction of having supported the Zimbabwe Open in virtually all the major sponsorship categories over the decades. Well done FBC and may your star continue to rise.
"FBC will headline the sponsorship in association with Bon Marché for the year 2023. The tournament will receive the solid support of our Anchor Sponsors, namely Golden Pilsener, Tongaat Hulett Zimbabwe, Sahwira Events and Lifestyle and Liquid Intelligent Technologies all of whom have supported our national tournament for many years. Our sponsors as outlined above will receive a vote of confidence from a number of tournament official partners who have pledged to make donations in cash and in kind. A roll call includes these important partners: Cimas (Wellness), Speedlink Cargo, Zuva Petroleum, Croco Motors, African Sun, Guard Alert, Nomads Zimbabwe, Rooneys and Tee Time Magazine."
Tournament director, Mike Mahachi revealed that a field of 156 players drawn from local, regional and international professional golfers as well as qualifying amateurs will tee off in the FBC Holdings in association with Borne Marché.
The seasoned golf administrator also revealed that South African golfer Albert Venter, who lifted last year's title after a nail biting playoff, is returning to defend his title.
While South African golfers have dominated previous editions, Zimbabwean golfers are quietly confident of finally ending the wait for a local winner.
South Africa-based Benjamin Follet-Smith will be eager to do well on home soil after an impressive start to his season by winning the Challenge Tour co-sanctioned Cape Town Open recently.
Other locals to look out for include Robson Chinhoi and Visitor Mapwanya who have been doing well on the Safari Tour in East Africa, while Asian Tour-based Kieran Vincent will certainly be among the local hopefuls.
Related Topics