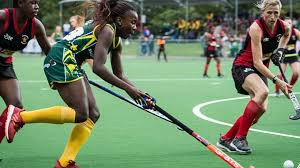 THE national Under-21 men and women's hockey teams' participation at the Junior Africa Cup is in danger as they struggle to raise money to travel to Egypt for the tournament.
Hockey Association of Zimbabwe has extended its begging bowl to corporates as they make a bid to raise US$60 000 in the next two weeks. The men's team coach Prince Mwale has pleaded for support to help the team to make the trip to Egypt.
The team is set to host a fund-raising tournament starting today at Khumalo Hockey stadium in Bulawayo as an initiative to raise the US$60 000 in order to meet their travelling requirements.
The Africa Cup will take place from March 12-19 with the women's side also set to participate.
Four teams — Hippo Valley, Matabeleland men's select, Khanimambo and the Zimbabwe under-21 men — will take part in the fundraising tourney starting tomorrow.
Mwale said preparations for the weekend tourney were on course and called for fans to come in their numbers.
"The preparations are going well and only the boys will be participating in Bulawayo as the girls will be in Harare for their camp. This tournament is part of our preparations and then a week later on March 3, we get into camp for our departure," he said.
"We are US$60 000 short of the money we need to travel in two weeks-time so we are looking at getting corporates to come in and assist.We will also be selling raffle tickets, which will go for US$5. We ask the public to come and watch and support."
Stanbic Bank and Ethiopian Airways are among the corporates, who are already on board and rallying behind the teams.
Despite the financial constraints being faced, Mwale is optimistic ahead of the tournament saying the players are in good shape.
"Our squad is looking sharp and ready to face the challenge. We are finalising our final plans over the next two weeks but the teams are looking strong for the competition," he said.
The Junior Cup will serve as a direct qualifier for the 2023 Junior World Cup, which will be hosted in Santiago, Chile with the winner and runner-up qualifying for the global showpiece..
Follow Magreth on Twitter @MagrethRuzvidzo
Related Topics