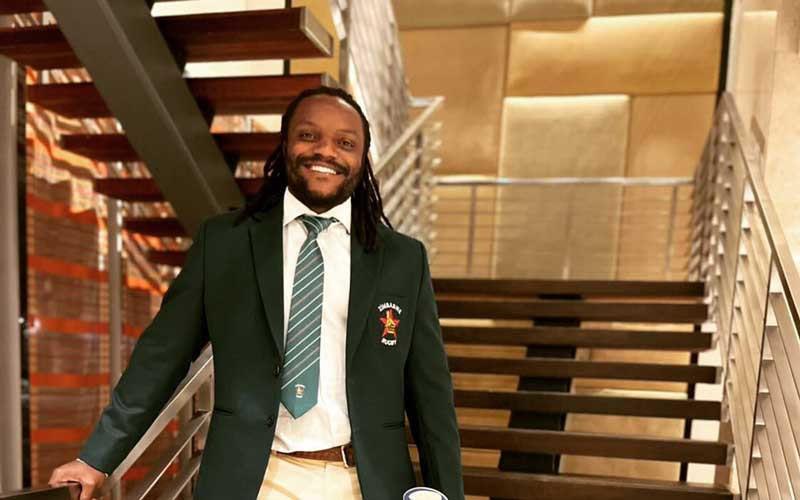 IT'S only been four months since Zimbabwe rugby international Takudzwa Chieza made his breakthrough move to French outfit Le Havre Athletic Club, but he has already been thoroughly impressed by the level of professionalism at his new club.
The 29-year-old inside centre made a massive leap in his career when he was signed by Le Havre Athletic Club in July, joining his Zimbabwean compatriot Johan Du Preez, who also joined the club after the 2023 Rugby World Cup Qualifiers played in the European nation.
Chieza has wasted no time making an impact on the field of play as he got his stint at Le Havre AC off to a good start with a string of solid performances in the Fédérale 2 which is the sixth tier of professional rugby in France.
Le Havre Athletic Club, who have a very long history in French rugby dating back to their formation in 1894, have also been going out of their way to ensure that Chieza feels comfortable in his new environment, something which has left him thoroughly impressed.
"The experience at my new club so far since I arrived in July has been amazing," Chieza told The Sports Hub in an interview from his French base.
"I'm in a small town, which is something I really managed to quickly adapt to since I'm from Ruwa.
"They have exceeded my expectations as a player. I never knew moving in to a brand new house is something (you could do after moving to a new club). Im still familiarizing myself with the language, it is a journey, so it's too early to mention on the settling with that," he said.
The 29-year-old inside centre has earned 14 Test caps for the Sables – the last coming during the 2022 Rugby Africa Cup played in France which doubled as the qualifiers for next year's Rugby World Cup.
Chieza also featured prominently for Zimbabwe's select side, the Goshawks during their maiden campaign in the Currie Cup First Division.
A dazzling runner and entertainer in open play, Chieza consistently impressed when he was given the opportunity to showcase his talent in last season's Currie Cup and the Rugby Africa Cup, with his ball-carrying ability.
His knack for breaking up opposition play with his defensive reads and line speed, have become key assets for the national team.
While many attributed his breakthrough move to his consistent performances for the national team, Chieza, who never misses an opportunity to open up on his Christian faith, believes the breakthrough came through God's grace.
"It was purely by the grace of God! I can't say the opportunity was an act of my intelligence, but God's timing he puts people in place to open up doors. The feeling was so real I didn't want to get too hyped because of past failures of contracts and opportunities not manifesting, so it humbled me to be honest more than anything else," he said.
His main target is to continue growing in his Christain faith while working hard on his trade.
"My relationship with Christ is the main target because without him I still would be in a cycle of bad habits to say the least. I want to continue reflecting on how far I've come as a player and just enjoy every moment."
Chieza also paid tribute to Sables head coach Brendan Dawson and backline coach Piet Benade for giving him the opportunity to showcase his talent during last season' Currie Cup.
"The positive thing about the whole camp was I got to know myself again as a player and establish a new way of contributing to the team based on the demand of the position and how competitive South African rugby is."
"I got to have a better understanding of the creative side of the game and I appreciate coach Dawson and coach Piet Bernard for giving the opportunity and patience to grow each game," he added.
Born to a Zimbabwean father and a Zambian mother, Chieza, who hails from Rusape, started playing rugby while he was in Grade Three at Lewisam Primary School in the capital.
"I wasn't much of an academic so on the prize giving day everyone was getting academia recognition and I was the only one in my rugby team that got the tag. I didn't know I was going to get one, so I guess that was the day that stuck with me and made me choose rugby as a career," he said.
While rugby awakening came at Lewisam Primary School, it was at Prince Edward School, a conveyor belt of sporting talent whose list of alumni includes former world number one golfer Nick Price, world renowned cricket coach Duncan Fletcher as well as a record-breaking Springboks rugby player Tonderai Chavhanga, where he believes he was nurtured into a better rugby player.
"Going to Prince Edward was a dream come true. Despite not making the Zimbabwe Under-13s (for the Craven Week), Prince Edward nurtured me to be an upstanding man in society and really believe that it was possible to make it as a rugby player," he said.
Prior to his move to France, Chieza had a stint at the Sharks Academy, where he was teammates with Japan rugby star Kotaro Matsushima and later at Cape Town-based side False Bay.
Related Topics