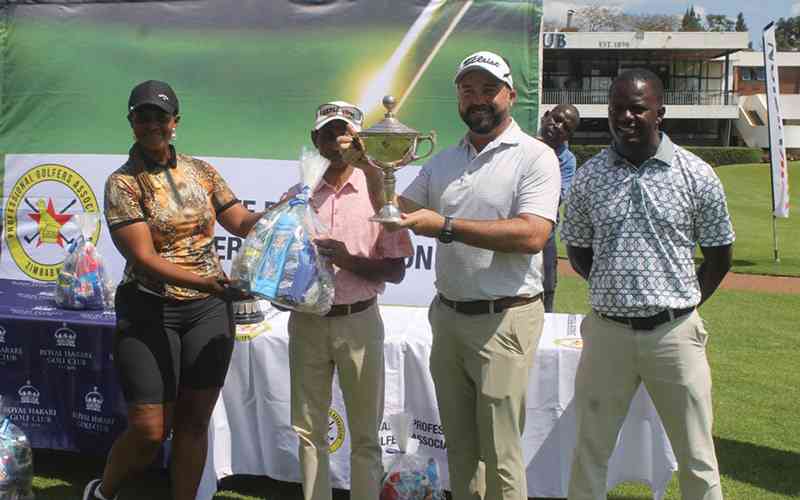 Rising golfer Robson Chinhoi fired a brilliant seven-under-par-65 but it was an in vain as veteran Ryan Cairns held his nerve to complete a wire to wire victory in the ZPGA Championship — Presented by Universal Sports Club at Royal Harare Golf Club yesterday.
Cairns shot a four-under-par 68 in yesterday's third and final round to finish on good total of 11-under-par in the US$10 000 tournament.
After taking the lead on the opening day, Cairns played some solid golf throughout the week, as he utilised the perfect scoring conditions at his home course.
He finished four shots clear of Chinhoi, who showed why many believe he is destined for a very successful career by signing a brilliant 65 to finish on seven-under-par.
"This victory means a lot, and just having this tournament is a huge blessing. Universal Sports Club has come to the party with an amazing sponsorship and the level of support they have provided for all the players is amazing. We've had the Universal Sports Club members driving around in carts watching the golf, so it's really been a special week and it's always more special for me to win on my home club," an eleted Cairns told reporters after the final round.
Cairns was also full of praises for Chinhoi, who was his playing partner in the final round.
The 38-year-old golfer walked away with a floating trophy and a US$1485 winner's cheque while Chinhoi, who now shifts his attention to the Malawi Open claimed US$1196.
After starting the final round tied for second position, Robson Saurombe endured a difficult final round as he carded a 73 in the final round to claim third position on four-under-par.
Never Milazi also struggled on the final day with a 76 to finish fourth on level par while Nyasha Muyambo, who is fresh from claiming his maiden Safari Tour win in Kenya recently settled for fifth position on one-over-par.
Former Zimbabwe Professional Golfers Association (ZPGA) president Akil Yousuf was the highest players senior professional golfer in the field after tying for 18th position.
Yousuf, who is also the press liason officer for the sponsors Unversal Sports Club said he was pleased by the high turnout as well as the quality of golf during the week.
"On behalf of Universal Sports Club we are thrilled to be in partnership with the ZPGA in this tournament and we hope that this will be a a continuous relationship. We hope to to put on another tournament next season," he said.
A total of 54 players teed off in the ZPGA Championship – Presented by Universal Sports Club, which was making a return on the local golf calender after a lengthy absence due to lack of sponsorship.
The field included some of the country's top male professional golfers, leading amateurs and top juniors.
ZPGA has also extended an invitation to some of the country's leading female professionals such as Loice Chingono and Claire Minter, who were also honoured at the conclusion of the tournament.
Related Topics