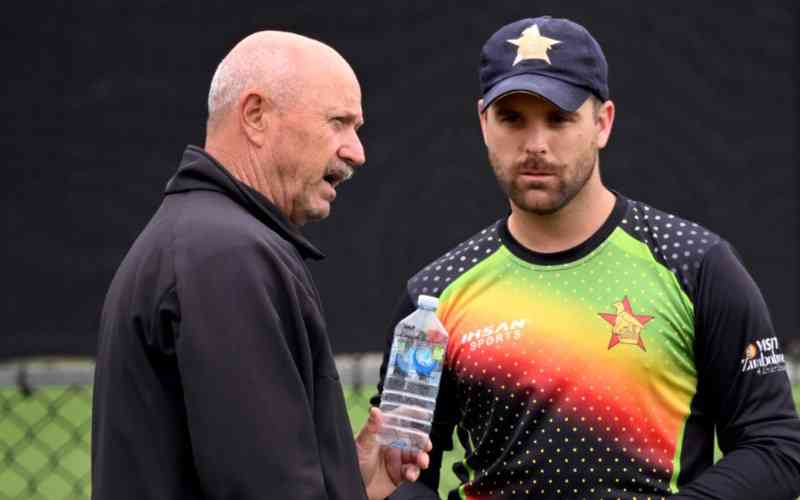 After being "outplayed" by Netherlands in Adelaide, Zimbabwe head coach Dave Houghton said his players got ahead of themselves given the significance of the match and had "seeds of doubt" in their minds.
Had Zimbabwe won, and then beaten India in their next game, they could have been in with a chance, although an outside one, to make the semi-finals of the men's T20 World Cup. However, yet another batting failure meant they could put up only 117 and lost by five wickets, the defeat pushing them to the brink of elimination.
"We've been quite fragile with our batting throughout this tournament," Houghton said after the game. "It has been our bowling, really, and fielding and catching, that has kept us in. Unfortunately, it [the batting] let us down in a game like this, which would have been huge for us if we had won, because then we'll go on to the next game with just that outside possibility. I think we just got a little bit in front of ourselves thinking of what the possibilities might be.
"One of the things I've tried to encourage to the team, even if our batting is a bit fragile, is to still be positive and play with fearlessness. There was a bit of movement in that wicket, and we needed to do something about it. We needed to be batting a bit more positively, using our feet going down the wicket at the seamers, but we didn't. The seeds of doubt just kept us stuck to the crease, and unfortunately, it cost us.
"Since I've been in charge of the side, the last four-and-a-half months, we've had an incredible journey; we've played some really good cricket. This is probably the first time that I've seen a bit of doubt creep into our game. Hopefully, it'll be the last time for a while as well."
Earlier in the tournament, Zimbabwe had beaten Pakistan in a last-ball thriller but the high didn't last long as they lost to Bangladesh in dramatic fashion, also on the final ball of the game.
"If you'd told me in June, when I started, that we would end up being sort of two games away about with the possibility of getting to a semi-final, I would have bitten your hand off for it"
Houghton was asked if the result against Bangladesh played a part in today's game.
"Oh, no, I don't think so," he said. "I think we just had the doubt here. I think it was because of a new surface [this was the first match in Adelaide this World Cup]. We took a couple of days off between the two games, because our guys were so tired. I just couldn't make them practice again. So that might have sown a little bit of the doubt that they hadn't actually been to the ground.
"And the occasion - we knew we needed to win one of the games against Bangladesh and Holland [Netherlands]. We lost closely to Bangladesh, so we thought, well, we need to beat Holland. That extra bit of pressure on them [the players], plus the fact that we hadn't been down here beforehand, might have sown the seeds of doubt."
Regis Chakabva's sub-par returns with the bat played a part in Zimbabwe not putting up challenging totals. In seven innings, the wicketkeeper-batter has scored only 45 runs at an average of 6.42 and a strike rate of 77.58.
Chakabva started the tournament batting at the top of the order but was moved down to No. 6 in the last two games. Against Netherlands, he came in at No. 3, was offered two lives during his 16-ball stay but could score only five.
"The biggest reason for moving batters around is that we're not getting enough runs out of various players," Houghton said. "I mean, we've been literally living on some runs from Sean Williams and [Sikandar] Raza for the last short while and one or two contributions from Wessly [Madhevere] and occasionally from Craig Ervine. So it has been difficult. We're having to move people around to see if we can adjust the order a bit to make life a little bit easier so hopefully we get bigger contributions from everyone. As I said, our batting has been brittle throughout this tournament. So we've done incredibly well to get where we've got to."
Overall, it has been a positive tournament for Zimbabwe. After a dominant show in the qualifying event in Bulawayo, they topped their group in the first round in Australia and then almost threatened a semi-final spot. Houghton said that the performance has "brought the game back to life" back home.
"It has meant a hell of a lot to people at home, and not just people at home, but Zimbabweans all around the world," he said. "The messages that we get on a regular basis from everybody have been unbelievable. We've had quite a few night games in this tournament, after which get back to the hotel at half past 11 and I'm still answering messages at 4-5 in the morning. It has been phenomenal and we know because we have been getting the videos posted [of the celebrations] as well.
"We know how it has been taken at home. The thing is they've enjoyed the way we play. They've enjoyed the fact that we are able to come out and stand toe to toe with some of the best. And even though we have lost today, they will still have enjoyed watching us and they will still be proud of us. I said to the guys after the game that win or lose, our crowd is behind us, and you guys have brought the game back to life in Zimbabwe.
"If you had told me in June, when I started, that we would end up being sort of two games away about with the possibility of getting to a semi-final, I would have bitten your hand off for it. But it has been a positive journey for us all the way through. It's just a pity we chose this game to have our worst game." — cricinfo.
Related Topics