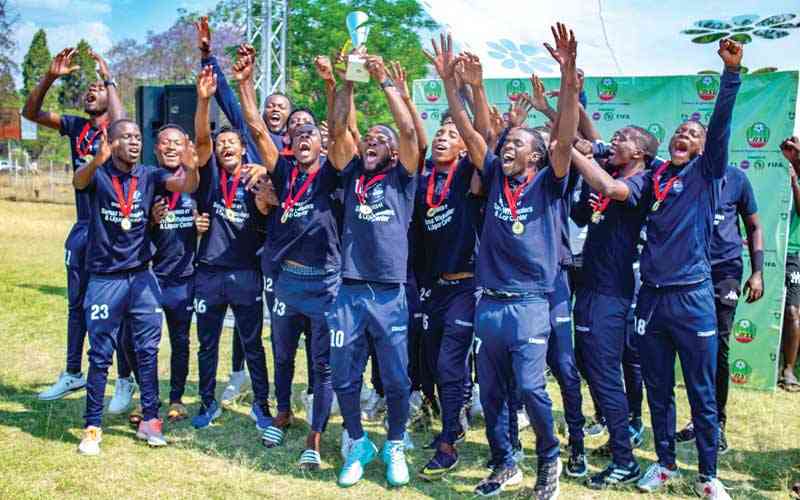 WHAT started off as a social football club for construction workers in Shurugwi has blossomed to become a Premier Soccer League team, Sheasham.
Popularly known as the Construction Boys, Sheasham is one of the newly promoted teams set to grace the Castle Lager Premier Soccer League next season.
Owned by renowned surveyor Clever Mandaza, Sheasham started off in 2015 as a social club for his construction workers in Shurugwi, then named Shurugwi Heights Football Club.
"This started off as a social football club for workers, they were playing in Shurugwi and they named their team Shurugwi Heights.
"It's a name derived from a location where we started in the mining town. But they worked hard and eventually the team reached Division 2 in 2016. They played two seasons in Division 2.
"That's when they came to us and said we can no longer manage the finances of the team. They surrendered it to us.
"And when we took charge of the team we outlined our objectives and we were clear on where we wanted to reach as a football club," Mandaza narrated.
One thing led to another and in 2017, they gained promotion into the Central Region where they started off with Jeremiah Neganda in-charge.
Neganda assembled a team that was headlined by former Dynamos linkman Steven Alimenda.
They ended the season in fifth position and former Chapungu tactician John Nyikadzino entered the fray after parting ways with the now defunct Nichrut who had just been relegated from the PSL.
Nyikadzino steered the Construction Boys to a second place finish in 2019, in a season they suffered massive heartbreak after losing grasp of the promotion ticket at the eleventh hour.
WhaWha eventually walked away with the bragging rights and ultimately gained promotion.
"That season remains in our minds but we worked and said we have to keep our focus on what we were aiming at.
"We even reshuffled the team in some many ways to remain in line with our objectives and it all went according to plan.
"Who knew that we could be here this season because it was easy to see us quitting after that agonizing season," he added.
What makes this project a potential success for Mandaza is the fact that they ended the 2021/22 campaign in the Central Region without a defeat in 26 rounds of matches.
Though he is first to admit that it will be a mammoth task to survive in the elite league, Mandaza is encouraged by how his partners are willing to drive the team to emulate their Midlands compatriots, FC Platinum.
Fuel Mogul Aaron Chinhara donated a hefty US$ 50 000 for the club to jumpstart next season.
According to Chinhara the money will come in two batches with US$ 20 000 set to be disbursed at the start of the season and the remainder will be received as the season progresses.
"Your venture into football should shape the society in a positive way. Your success should be reflected in the lives of your players as well as your fans.
"Sports is now a big business capable of changing the lives of many people.Let's support this football immensely so that it grows to be a force to reckon with," Chinhara said.
They walk into the top tier league guaranteed of a kit sponsorship after kit manufacturing company George Mitchell pledged to dress them next season.
Meanwhile, they have turned their backs on Ascot Stadium and declared that they will use Bata Shoe Company stadium as their fortress.
Bata has been obsolete for decades but the ambitious Gweru based club has set their sights on turning the facility into a world class stadium.
The now defunct Bata Power Football Club was the last professional football team to use the stadium in the late 80s.
At this point, the facility lacks the minimum requirements for a stadium to be homologated by the First Instance Board [FIB].
This means the Construction Boys are faced with a daunting task of refurbishing the VIP stands, the turf, constructing a media stand and ablution facilities.
They will also be required to fence the facility located about four kilometers outside the central business district.
Club President Mandaza says they are aiming to complete the critical parts of the stadium in the next two months.
"We are moving to Bata Stadium. Work has already started.
"The good thing is that we will be using our own labour, our own machinery which means with dedication, we can achieve what we are aiming," Mandaza said.
"The next two months will be critical and we hope to have finished the critical parts of the set up so that we meet the minimum requirements of the Premier Soccer League."
Related Topics